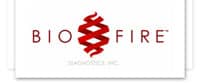 BioFire Diagnostics Inc, Salt Lake City, has received FDA clearance for its updated [removed]FilmArray Respiratory Panel[/removed], which improves the detection of adenovirus.
Studies performed to support the clearance of the modified panel demonstrated a 73% increase in the detection of adenovirus, and a threefold improvement in the limit of detection when compared to the original panel.
All existing assays for the 20 viral and bacterial targets in the original Respiratory Panel are unchanged.
The updated panel includes an additional assay designed to increase sensitivity and reactivity for the detection of adenovirus. The panel should be available in April.
FilmArray RP is the company's first clinical diagnostic test designed to run on its FilmArray system, which represents an advancement in user-friendliness and multiplex infectious disease testing capability for hospital clinical labs.
It rapidly detects nucleic acids in nasopharyngeal swabs obtained from individuals suspected of respiratory tract infections. Requiring only 2 minutes of hands-on time, FilmArray RP has about a 1-hour turnaround time, and simultaneously tests for the following panel of respiratory pathogens: adenovirus, coronavirus 229e, coronavirus HKU1, coronavirus NL63, coronavirus OC43, human metapneumovirus, influenza A, influenza A subtype H1, influenza A subtype H3, influenza A subtype H1 2009, influenza B, parainfluenza virus 1, parainfluenza virus 2, parainfluenza virus 3, parainfluenza virus 4, rhinovirus/enterovirus, respiratory syncytial virus, Bordetella pertussis, chlamydophila pneumoniae, and Mycoplasma pneumoniae.
FilmArray RP has received FDA clearance for 20 targets and is available for use by hospital and clinical laboratory professionals in the United States.
[Source: BioFire]