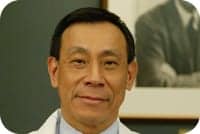 George L. King, MDThe Centers for Disease Control and Prevention (CDC) has released the National Health and Nutritional Examination Survey (NHANES) with additional data briefs on hypertension, cholesterol, and obesity among adults in the United States by age, gender, race, and ethnicity.
For the first time, this detailed national survey of health characteristics includes important health status and information on Asian Americans (AA).
Harvard's Joslin Diabetes Center, Boston, applauds the CDC for including Asian Americans, who are the fastest growing minority in this country—however, the conclusion of the analysis suggests that the AA population has a significantly lower rate of obesity among the various ethnic groups, implying that the AA population will also have fewer health problems associated with obesity such as diabetes, high blood pressure, kidney disease and cardiovascular disease.
A great deal of evidence suggests that the BMI range used by Federal health agencies to define obesity is inappropriately applied to the AA population, according to Joslin.
Thus, members of a national coalition of organizations that focus on diabetes research, treatment, and advocacy of Asian Americans, Native Hawaiians, and Pacific Islanders ([removed]AANHPI[/removed]), the AANHPI Diabetes Coalition, urge both the CDC and the readers of the survey to put these results in the proper context before concluding that obesity is of less concern in the AA population than in other ethnic groups.
"The conclusion of the CDC report indicated that the prevalence of obesity is lower in the AA population than other ethnic groups," says George L. King, MD, chief scientific officer, Joslin Diabetes Center, and co-chair, AANHPI Diabetes Coalition. "This observation is likely to give a false impression of the health risks facing the AA population, since many of the disorders that are related to excess weight occur at much lower BMI levels in the AA population.
"Thus, to apply criteria of obesity that is only applicable to other ethnic groups, but does not accurately reflect those problems in the AA population, gives a wrong conclusion," King adds. "This error could have a potentially detrimental impact on AANHPI populations, since it will decrease surveillance of those medical problems associated with obesity by healthcare providers and even AANHPI populations, especially if the reimbursement policy is based on an incorrect standard of obesity."
Edward Chow, MD, co-chair, AANHPI Diabetes Coalition, says its members hope to work further with the scientists of CDC's NHANES study to refine and reassess the data from this historic first sampling of the AA population. "We want to make sure that this important analysis accurately illuminates the health and nutritional status of the AANHPI community, which is very diverse and rich in its complexity," he says.
[Source: Joslin Diabetes Center]