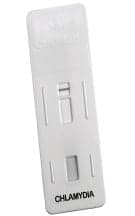 Chlamydia Immunoassay
Direct qualitative detection of chlamydia
Clearview® Chlamydia from Alere North America Inc, Orlando, Fla, is a rapid immunoassay for the direct qualitative detection of Chlamydia trachomatis antigen in female endocervical swab specimens. The test is highly accurate and easy to use, and produces results in 15 minutes. Testing with this product provides an immediate result, allowing patient notification and necessary treatment in a timely manner. The solution is intended for use in labs, hospitals, and OB/GYN departments.
Alere North America Inc
(877) 441-7440
www.alere.com
---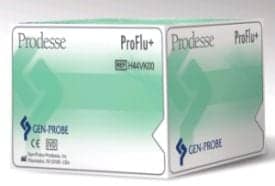 In Vitro Diagnostic Influenza Test
Detects and discriminates influenza A, influenza B, and RSV
The Prodesse® ProFlu™+ Assay from Gen-Probe Inc, San Diego, is a multiplex real-time PCR in vitro diagnostic test for the rapid and qualitative detection and discrimination of influenza A virus, influenza B virus, and respiratory syncytial virus (RSV) nucleic acids isolated and purified from nasopharyngeal swab specimens obtained from symptomatic patients. It is faster and easier than culture and provides results in a few hours. This test is one in a family of respiratory tests offered by the company that can be used in an algorithm to aid in the diagnosis of respiratory disease. Other IVD assays include ProFAST™+ for influenza A subtyping; ProParaflu™+ for parainfluenza 1, 2, and 3; Pro hMPV™+ for human metapneumovirus; and ProAdeno™+ for human adenovirus. The FDA cleared the test for in vitro diagnostic use in 2008.
Gen-Probe Inc
(800) 523-5001
www.gen-probe.com
---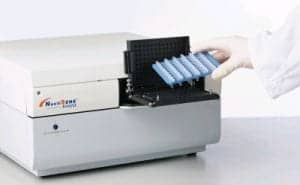 System for Nucleic Acid Amplification and Detection
Rapid, automated molecular-based platform
The NucliSENS EasyQ® from bioMérieux Inc, Durham, NC, is used in clinical labs for nucleic acid amplification and detection of infectious disease agents. It is a rapid, automated molecular-based platform that generates results in 2 hours for batches of up to 48 samples. The user-friendly system delivers the benefits of real-time molecular technology, which yields shorter turnaround times while minimizing cross-contamination risk. It requires minimum workbench space, facilitating improved workflow. The rapid and accurate results lead to enhanced efficiencies and improved lab productivity.
bioMérieux Inc
(800) 682-2666
www.biomerieux-usa.com
---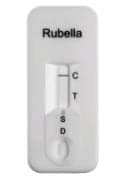 Test Kit
Screens pregnant women with unknown status
Alere North America Inc, Orlando, Fla, offers the Clearview® RUBELLA-plus® test kit for screening of expectant mothers with unknown status. Screening these patients for the rubella virus during the early stages of pregnancy can help prevent serious infection in the fetus. The solution is intended for use in labs, hospitals, and OB/GYN departments.
Alere North America Inc
(877) 441-7440
www.alere.com
---
Trichomonas Vaginalis Assay Uses target capture and transcription-mediated amplification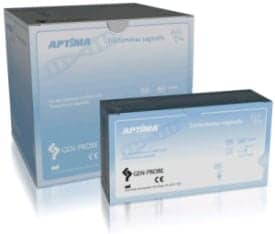 The APTIMA Trichomonas vaginalis assay, a nucleic acid amplification test from Gen-Probe Inc, San Diego, has been FDA-cleared for the detection of Trichomonas vaginalis, a sexually transmitted parasite that is more prevalent than Neisseria gonorrhoeae and Chlamydia trachomatis. Up to 50% of Trichomonas infections in women are asymptomatic, and the proportion may even be higher in men. Untreated infections can negatively impact reproductive health and increase risk for HIV acquisition and transmission. The assay uses the same technology as the APTIMA assays for the detection of Chlamydia trachomatis and Neisseria gonorrhoeae, including target capture and transcription-mediated amplification (TMA). The assay is cleared for use with the company's TIGRIS® DTS® system to test clinician-collected endocervical or vaginal swabs, urine, and specimens collected in PreservCyt® solution from symptomatic or asymptomatic women. The automated TIGRIS DTS system offers freedom from hands-on processing, enabling lab support for Trichomonas screening programs.
Gen-Probe Inc
(800) 523-5001
www.gen-probe.com
---
Diagnostic Sample Preparation Kits
Clinical sample concentrators

QIAGEN, Germantown, Md, offers a range of diagnostic sample preparation (DSP) kits for the purification of high-quality viral and pathogen nucleic acids from a variety of clinical samples, such as blood, plasma, and serum. The DSP kits are clinical sample concentrators, manufactured under good manufacturing practice and designed for in vitro diagnostic use in the United States. Processing using the DSP kits can be manual or automatable on a variety of platforms. QIAamp DSP kits are based on an established technology that provides fast and easy purification of nucleic acids from clinical samples to perform reliably in downstream applications. Purification with many of these DSP kits is fully automatable on the QIAcube for up to 12 samples at a time. Other clinical sample concentrator kits for infectious diseases include the QIAsymphony DSP Virus/Pathogen Kits for the QIAsymphony platform, and the EZ1 DSP Virus Kits for the EZ1 Advanced systems.
QIAGEN
(800) 426-8157
www.qiagen.com
---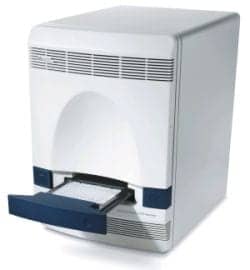 Real-Time PCR Instrument
Completes runs in less than 40 minutes
The 7500 Fast Dx Real-Time PCR Instrument from Life Technologies Inc, Carlsbad, Calif, is a 96-well, five-color, real-time PCR instrument. It received 510(k) clearance from the FDA in 2009 for use with the CDC human influenza virus, RT-PCR detection and characterization panel (RT-PCR Flu Panel). The instrument's fast mode completes runs in less than 40 minutes, and the instrument accommodates tube strips, which can be capped immediately after pipetting each sample. Security features such as user log-in, user permission settings, system auditing, and e-signature approvals are customizable to ?t a range of security needs. The instrument is supported by the assurance service plan for diagnostics, which includes instrument installation qualification, operation qualification, and performance qualification (IQ/OQ/PQ); spectral calibration and software setup; emergency repair including parts and labor, and OQ/PQ after any major part change; and planned maintenance every 12 months.
Life Technologies Inc
(760) 603-7200
www.lifetechnologies.com
---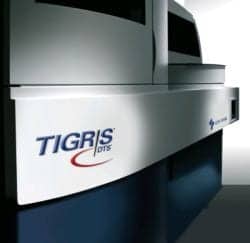 High-Throughput Instrument for NAT Testing
Automates all phases of molecular diagnostics testing
The TIGRIS DTS System from Gen-Probe Inc, San Diego, automates all phases of molecular diagnostics testing from sample preparation, amplification, and detection, to reporting results. Integrating the system with APTIMA assay kits for nucleic acid testing offers freedom from hands-on processing. The system is a high-throughput instrument for automating NAT testing, and is for use in the clinical, diagnostic, and blood-screening markets. By using direct tube sampling technology and an exclusive penetrable cap on the sample-collection tube, the system allows for minimal contamination and safer, more convenient sample removal. Sample transport is simplified, sample handling is minimized, and lab cross-contamination is reduced. The system can process approximately 500 samples in an 8-hour shift and up to 1,000 samples in approximately 13 hours. Two systems can be operated under the supervision of a single lab technician.
Gen-Probe Inc
(800) 523-5001
www.gen-probe.com