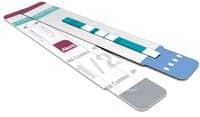 According to the latest federal guidelines and proposed algorithm from the Centers for Disease Control and Prevention (CDC), routine HIV testing with a 4th generation test can have a significant public health impact.
Alere Inc, Waltham, Mass, introduces in the United States its Alere Determine™ HIV-1/2 Ag/Ab Combo test, the first FDA-approved rapid point-of-care test that detects both HIV-1/2 antibodies and the HIV-1 p24 antigen, which can appear days after infection and prior to HIV-1/2 antibodies.
The test is FDA-approved to be sold in the United States as a CLIA (Clinical Laboratory Improvement Amendments) moderately complex medical device.
According to the CDC, there are approximately 1.2 million Americans living with HIV, and an estimated 207,000 (18%) whose infections have not been diagnosed. In 2010, the CDC estimated that there were 47,500 newly infected people with the virus in the United States, indicating that HIV remains a serious health problem.
The test simultaneously detects free HIV-1 p24 antigen as well as antibodies to both HIV-1 and HIV-2 in human serum, plasma, and venous or fingerstick whole blood specimens. It can be used by trained professionals in healthcare settings to identify HIV-infected individuals.
The test is now available to all health facilities and labs that are licensed to conduct tests of moderate complexity under the CLIA program.
It is undergoing CLIA-waiver studies to demonstrate its ease of use, safety, and accuracy. In the fourth quarter of 2013, Alere anticipates submitting to the FDA its application to categorize Alere Determine HIV 1/2 Ag/Ab Combo as a CLIA-waived test, so it can be made widely available in physician offices and public health settings.
[Source: Alere]