UTAK Laboratories Inc, Valencia, Calif, is marking its 40th anniversary as a diagnostics manufacturer solely focused on quality controls, by introducing "Spice" and "Bath Salts" QC products to assist labs in the war on drugs.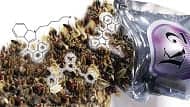 Designer synthetic drugs have a chemical structure close to that of psychoactive compounds and can mimic, for example, the effects of cannabis, amphetamine, or cocaine.
They are often sold in small retail outlets and via the Internet with the implication that users get a "legal" high.1
"Our focus has always been our ability to customize and meet the needs of individual customers with small batch requests," notes Jim Plutchak, CEO and founder, UTAK, at the Society of Forensic Toxicologists (SOFT) annual meeting beginning October 28 in Orlando, Fla.
Plutchak, a toxicologist working with well-known Los Angeles coroner Thomas Noguchi in 1973, started UTAK to support the customized drugs-of-abuse quality control needs of forensic crime labs.
The company produces comprehensive* third-party designer drug quality controls for use with any methodology, on any testing platform.
Use of designer drugs is alarmingly high among young people, and can lead to seizures, delusions, violent behavior, loss of consciousness, and overdose deaths.1,2 Labeled "not for human consumption" to mask their intended purpose, synthetic cannabinoids, known as "synthetic marijuana," "K2" or "Spice," are marketed as "herbal incense" or "potpourri", and synthetic cathinones are often sold as "bath salts" or "jewelry cleaner".1
Federal, state, and local agencies continue putting legislation in place to combat this threat.1 Synthetic drugs are made overseas and in US residential neighborhoods; the chemical compositions are frequently altered in an attempt to avoid government bans.1
*Due to the changing nature of this substance and its metabolites, UTAK offers the option to have custom controls manufactured for laboratories.
1. White House Office of National Drug Control Policy: Synthetic Drugs (aka K2, Spice, Bath Salts, etc). Accessed 10/4/13.
2. Reuters: Designer Drugs Crackdown: DEA carries out biggest crackdown ever on Spice, Bath Salts. Posted 6/27/13.
[Source: UTAK Laboratories]