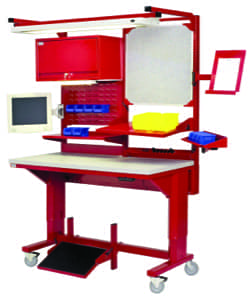 Lista International Corp, Holliston, Mass, introduces lab furniture through its Lista Xpress line.
Included are a range of workbenches and storage systems, ideal for use in a variety of laboratory environments.
Among the lab products available through the Xpress program are an all-purpose workbench, Arlink 8000 modular workstations, and technical workstations.
The workbench is durable and flexible, designed to integrate with a range of drawer, overhead, and other storage systems. It is available in a variety of worksurface materials.

The workstations offer fast and simple setup and reconfiguration, requiring virtually no hardware or tools. Single- or double-sided models are available in a range of widths, heights, and depths to accommodate individual workers, offering improved ergonomic conditions.

Available with optional cabinet pedestals, they provide enhanced functionality to suit specific applications and work environments and are available with built-in access to electrical power.
[Source: Lista International]