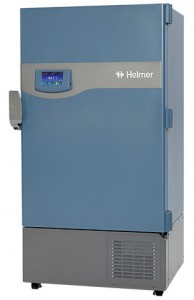 The new i.Series ultra-low freezer line from Helmer Scientific, Noblesville, Ind, a manufacturer of cold storage products, is designed for the storage of biological samples in clinical markets.
"We have applied many advanced manufacturing techniques to the manufacturing process, including an extended water elimination process that ensures that water is eliminated from the refrigeration system and that foreign particles are eliminated," says Heather Barry, product manager.
A cascade refrigeration system optimizes and protects the compressor, providing greater energy efficiency. A unique heat barrier system keeps heat out, resulting in better temperature uniformity and less frosting. The freezers are controlled and monitored by the i.C3 information hub, which aggregates critical freezer information on a 7-inch color touchscreen. The ultra-low freezers also offer improved serviceability with intelligent component placement, line-of-site to serviceable components, tool accessibility, and diagnostics history available through the i.C3 information hub.
For more information, visit Helmer Scientific.