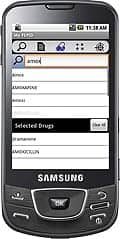 PEPID Google Android Application
New mobile platform for the drug database
PEPID®, Evanston, Ill, offers a new application that makes its drug database available on the Google Android operating system. PEPID's clinical and pharmacological content is designed to support clinicians through every stage of the decision support process, from the initial content through treatment and follow-up care. The company's drug database contains thousands of disease profiles and medical conditions, medical and dosing calculators, and a drug interactions checker, along with numerous illustrations, laboratory values, and a differential diagnosis generator. The company is currently looking for beta testers. Testers do not need a current subscription to participate.
PEPID
(888) 321-7828
www.pepid.com