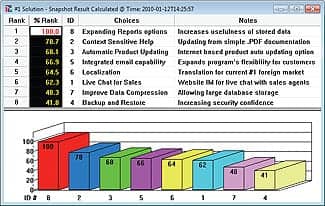 ChoiceAnalyst
Six Sigma decision support tool
Catalyst Development Corp, Yucca Valley, Calif, releases its ChoiceAnalyst decision support tool with Six Sigma application. The statistic-based tool helps users analyze complex decisions with multiple alternatives and multiple criteria by organizing options and criteria and reducing the decision to a series of the easiest choices possible. When the process is complete, ChoiceAnalyst mathematically calculates and presents all available options, in ranked order, with users' best choice at the top.
Catalyst Development Corp
(800) 776-3818
www.catalyst.com
---
Informatics Community
Exclusively for Waters' software SDMS customers
In response to customer feedback requesting an interactive forum, Waters®, Milford, Mass, recently launched its latest online community, which features exclusive Waters Empower™ software and NuGenesis® Scientific Data Management System resources, as well as access to experts and shared user experiences. Users can connect with peers, share experiences, and access the latest information. The Waters informatics community is the company's second private, social networking site. Launched in 2008, the ACQUITY UPLC® community now includes more than 2,000 members.
Waters Corp
(800) 252-4752
[removed]www.waters.com/empowerme[/removed]