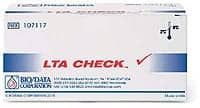 LTA Check
Performance monitoring test kit and software
Bio/Data Corp, Horsham, Pa, launches its new LTA Check™ performance monitoring test kit and software, which helps to verify performance of light-transmission aggregometers. The kit allows labs to verify aggregometer function, standardize and ensure precision and reliability of test results, document the reagent system, comply with CLIA laboratory regulations, identify and reduce QC variables, and validate consistent results across multiple sites. It includes LTA Check performance monitoring software for recording ranges and limits for quality control and system functionality. The kit includes all reagents and diluents to perform 18 half-volume or nine full-volume determinations.
Bio/Data Corp
(800) 257-3282
www.biodatacorp.com
---
ITF-GoDoc Reporting Feature
Critical value alerting and reporting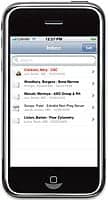 Halfpenny Technologies, Blue Bell, Pa, introduces a new critical value alerting and reporting feature for its ITF-GoDoc solution. ITF-GoDoc enables physicians to access laboratory, pathology, and radiology result reports from their iPhone, Droid, or Blackberry Storm-powered Smartphones. The company's automated, closed-loop critical value alerting and reporting feature for ITF-GoDoc offers a convenient way to notify physicians of test results while eliminating the potential for errors associated with manual tracking of alerts. ITF-GoDoc provides automated acknowledgment of message receipt, which can be routed back to a host health information or laboratory information system. It is now available for free download.
Halfpenny Technologies
(610) 277-9100
www.halfpenny.com
---
Informatics Community
Exclusively for Waters' software SDMS customers
In response to customer feedback requesting an interactive forum, Waters®, Milford, Mass, recently launched its latest online community, which features exclusive Waters Empower™ software and NuGenesis® Scientific Data Management System resources, as well as access to experts and shared user experiences. Users can connect with peers, share experiences, and access the latest information. The Waters informatics community is the company's second private, social networking site. Launched in 2008, the ACQUITY UPLC® community now includes more than 2,000 members.
Waters Corp
(800) 252-4752
[removed]www.waters.com/empowerme[/removed]