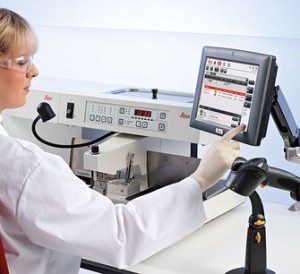 Leica Biosystems and NovoPath have announced a partnership to integrate the Cerebro specimen tracking system from Leica Biosystems with the NovoPath anatomic pathology laboratory information system (APLIS). The integration extends NovoPath's support of Leica Biosystems' labelers, stainers, and other histology equipment to enhance histology workflow.
"Our customers demand that we improve integration of our products with their laboratory information systems," says Puneet Sarin, Leica Biosystems vice president and general manager for the pathology imaging business. "This advancement is critical to the improvement of their overall workflow."
The solution is designed to reduce human identification errors and identify problems before they generate any patient safety risks. The integration enables labs to electronically track samples from specimen receipt through result delivery, and provides necessary data to identify bottlenecks and improve workflow efficiency.
"NovoPath is committed to helping anatomic pathology labs increase operational efficiencies and enhance patient safety," says Rick Callahan, vice president of sales and marketing for NovoPath.
For more information, visit Leica Biosystems and NovoPath.