Software Bolsters Information Management System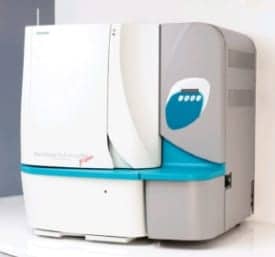 Postanalytical microbiology information management tools
Siemens Healthcare Diagnostics, Deerfield, Ill, introduces LabPro V4.11 and LabPro Connect, giving laboratories access to Siemens' most powerful postanalytical microbiology information management tools. The software releases further bolster the company's MicroScan® LabPro Information Management System, providing effective management of microbiology test results—from order to laboratory information system (LIS) transmission—using intuitive, customizable features to enable faster workflow and delivery of important test results. LabPro V4.11 is the latest version of Siemens' popular LabPro Information Manager, standard with any Siemens MicroScan microbiology testing system (pictured here). The software enables labs to organize microbiology lab data, automate workflow, and detect results that require review. Enhancements to the latest version include a new panel information tab for a quick snapshot of the processing panel with status and exceptions updates, a new WalkAway® selector that displays the status of all instruments, and the ability to now sort testing bar codes to organize panel setup. Working in conjunction with the LabPro Information Manager, LabPro Connect is a new software solution that consolidates databases for multiple testing systems.
Siemens Healthcare Diagnostics
(847) 267-5300
www.siemens.com/healthcare
---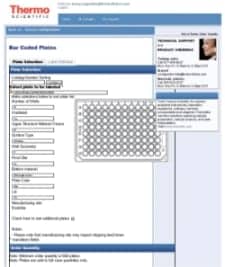 Bar Code Configurator
Online tool for bar code management
Thermo Fisher Scientific Inc, Waltham, Mass, offers the Nunc bar code configurator, an online tool that provides a convenient way to design and order custom bar-coded Nunc plates online. With the ability to specify the number of digits, code type, prefixes or suffixes, and label location via a step-by-step user interface, visitors to the site can build a bar coding label scheme to best suit their application needs. Upon visiting the site, users are asked to select plate attributes, such as well number, well geometry, and irradiation. After selecting the desired quantity, users can choose from numeric or alphanumeric bar coding, with the option of adding human-readable print and color blocking. All codes can also be prefixed and/or suffixed with a sequence of characters for easy identification of plate types. Users can also specify the label location and properties of the finished surface.
Thermo Fisher Scientific Inc
(800) 678-5599
www.thermofisher.com
---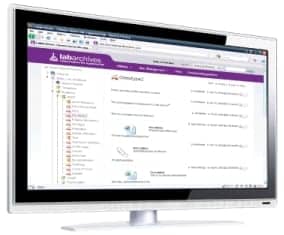 Scientific Data Storage Software
Store, organize, share, and publish scientific data
LabArchives LLC, Carlsbad, Calif, has released a new version of its Electronic Laboratory Notebook (ELN), a tool used to store, organize, share, and publish scientific data. The Web-based SaaS product allows all users to automatically upgrade to the latest edition at no charge. Users who license LabArchives on a local server also receive upgrades free of charge. LabArchives has been integrated with other scientific software, including GraphPad Prism and TreeStar Software's FlowJo. The new release of both products enables users to directly store their experimental data and analysis into LabArchives Notebooks. It is available in both a free and premium version; the free edition is fully functional, and is limited only by the amount of data storage. Users may sign up for a free account and upgrade at any time. A locally hosted version is also available.
LabArchives LLC
(760) 579-0342
www.labarchives.com
---
Data Management Solution Connectivity
Remotely monitor and manage HbA1c and microalbumin testing results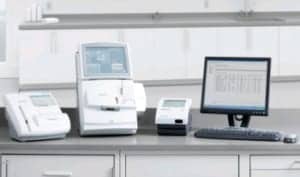 Siemens Healthcare Diagnostics, Tarrytown, NY, introduces its new RAPIDComm® Data Management Solution Version 4.0, extending system connectivity to the company's DCA Vantage® diabetes analyzer. Point-of-care (POC) lab managers are now able to rely on a single, advanced user interface to remotely monitor and manage diabetes testing results, in addition to blood gas via RAPIDSystems, and urinalysis via the CLINITEK Status® Connect System. The RAPIDComm system is accessible from any computer connected to the hospital-wide network and can be customized to address the needs of different departments, users, and patients. POC coordinators are able to remotely manage and maximize instrument uptime, and simplify instrument control and operator management. Advanced functionality allows health care professionals to implement safeguards that improve patient care by setting critical ranges and trend alerts for different sample types and facilitating result review by exception to focus attention on critical areas. It enhances quality control (QC) management, control, and documentation with automated QC result processing and customizable regulatory reports. (The DCA Vantage® diabetes analyzer is pictured.)
Siemens Healthcare Diagnostics
(914) 631-8000
www.siemens.com/rapidcomm