Medica Corp, Bedford, Mass, introduces Competency Review Software as an option for its EasyCell assistant cell imaging system for hematology labs, which easily integrates evaluations of technologists into the lab's daily routine.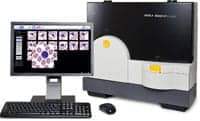 With the software, an instructor can easily train and evaluate the expertise of a lab technologist in classifying white cells and red cell morphology—for performance improvement or periodic recertification. The software is an great tool for improving or standardizing a technologist's performance.
The EasyCell assistant (pictured) automates and simplifies the cell differential process by locating and preclassifying normal white blood cells.
The competency review is built-in, requiring no additional software or Internet connection.
Confidentiality is protected throughout the process.
[Source: Medica Corp]