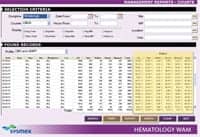 Sysmex WAM hematology middleware Count Statistics Management Reports screen – Count Statistics.Whether small or large, labs can find their perfect automation fit
BY: GARY TUFEL
Over the past few years, more demands have been placed on labs to reduce turnaround times and deliver results with more predictability. Large labs are tasked to accomplish a higher testing volume on larger testing menus, yet often with reduced budgets. And smaller labs are under similar demands, causing more low-volume labs to consider lab automation solutions that fit their specific testing needs.
"We've also seen a higher requirement from the market for clinical IT solutions and higher-capacity analyzers connected to automation lines," says Ted Sheridan, diagnostics marketing manager, Beckman Coulter, Brea, Calif. "With automation, labs can more effectively meet these demands while reducing costs and maintaining quality."
Many labs are seeking ways to grow their business and accomplish their current testing as cost-effectively as possible. Lab automation solutions—in conjunction with high-capacity analyzers with full menus and clinical IT solutions—are helping laboratorians accomplish just that: more with less. "One way to increase revenue is to go after higher-profit outreach business in the community—placing demand on automation systems to achieve a higher percentage of prespun tubes that do not require centrifugation," Sheridan says.
Another way lab automation can impact the lab is by helping address labor shortage challenges. "By automating preanalytical (receiving the tube in the lab, loading and unloading the centrifuge, decapping the tubes), analytical (loading and unloading samples from the analyzers), and postanalytical (recapping, refrigerated storage, recalling samples for add-ons tests)—steps that in the past would have been completed by staff—automation frees staff to work on nonroutine samples that require specific attention," Sheridan explains.
Sheridan notes that lab automation products provide solutions across the entire testing process: preanalytical, analytical, and postanalytical. "It's important to know that lab automation products aren't 'one size fits all,' and selecting automation solutions based on each lab's unique testing needs is essential, from small community hospitals to the largest reference laboratories," he says.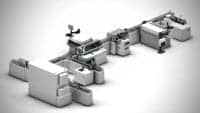 Abbott's ACCELERATOR a3600 enhances efficiency, productivity, and patient safety for labsTackling the cost of doing more with less
Automation helps labs confront challenges, especially those posed by economic burdens associated with rising costs, chronic diseases, and caring for a burgeoning, aging population. "There is growing demand for greater quality and efficiency in the delivery of patient care services. Laboratories worldwide are facing similar challenges fueled by higher and higher demand for diagnostic testing, shortages of trained technologists, new quality mandates for health providers, and changing reimbursement policies," says David Overcash, senior product manager, global marketing, On Market Products – Automation, Abbott Diagnostics, Abbott Park, Ill. "Automation offers labs of all sizes innovative and cost-effective ways to improve testing efficiency, reduce errors, conserve labor, and relieve workload pressures as much as possible."
Automation also helps reduce errors associated with manual procedures, which conserves time and provides a consistent level of performance. It can improve testing turnaround time and deliver test results to physicians sooner to help expedite clinical decision-making. Assays most suited for automating include higher-volume clinical chemistry, immunoassay, hematology, and coagulation, Overcash adds.
Abbott's latest and state-of-the-art automation product is the ACCELERATOR a3600, a new sample track system that enhances efficiency, productivity, and patient safety for labs. The automated system can increase a lab's workload capacity and improve result turnaround times by reducing possibilities for errors associated with sample handling and by providing performance consistency.
It can process up to 3,600 samples per hour; handle multiple tube sizes and types simultaneously; and is designed to automate preanalytical, analytical, and postanalytical processing, sample-handling, and processing in the lab. The system can be configured to support a lab's testing volumes, offering the capability to install up to 99 combined analyzers and modules on a single system. Through communication connections among the automation system, analyzers, and the laboratory information system (LIS) and middleware, ACCELERATOR's automation software provides workload and sample-order management, as well as instrument operational status monitoring.
Abbott's ACCELERATOR p540 is a stand-alone nontrack-based, automation platform for smaller labs. It provides automated sample decapping, aliquoting, and sorting to improve workflow in the lab, and has an onboard QC-storage module for automatic aliquoting and labeling of QC samples.
"Incremental changes in laboratory operation will not satisfy the current pressures to report results faster with increased accuracy.

Big changes in the approach to laboratory operations have to occur to realize measurable efficiency gains and this is even true for smaller laboratories." — Anne Tate, MBA MT (ASCP), SC, Group Product Manager – IT Product Management and Automation, Sysmex America Inc

Automation Paired with Middleware
With an aging Baby Boomer population, the volume of assays labs perform ratchets up at the same time the number of lab techs is decreasing. Automation and middleware help fill the gaps.
Automation linked with middleware means technicians don't have to touch every sample, making the testing process more efficient and freeing up techs for other tasks, says Anne Tate, MBA MT (ASCP), SC, Group Product Manager – IT Product Management and Automation, Sysmex America Inc, Lincolnshire, Ill. "By eliminating negative sample results in this way, labs can concentrate on the positive ones. In addition, automation provides standardization so techs are evaluating conditions and events in the same way, improving predictability, speeding result reporting, and helping doctors in determining patient treatment," she says.
Despite the benefits, only 50% of labs are currently autovalidating, Tate says. "Historically, techs were afraid of autovalidation because they didn't want to miss a significant finding," Tate notes. "Techs want to see and touch everything. Many techs understand physiology and analyzer technology, but may not be as IT-savvy, or else [they] are generalists and have less experience with specialty hematology. We are finding that labs may not even know how to start implementing automation coupled with autovalidation."
It behooves labs to understand the full complement of automation options, Tate says. "This means learning more about how each analyzer handles abnormal samples and how middleware can be a useful and trusted addition to the workflow process," she says.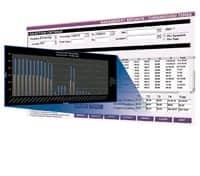 Sysmex WAM hematology middleware Management Reports screen – Turnaround Times. To address this need, Sysmex provides on-site training with its middleware products, including one-on-one training. Sysmex Professional Services offers experienced resources to provide clinical and informatics expertise during initial implementation and beyond, and the company has also beefed up its standard implementation training. Tate notes that some labs have autovalidation rates in hematology as high as 85% of samples, and with so many labs not autovalidating, they are missing out on the advantages they deserve, she says.
Sysmex WAM™, a middleware product used by nearly 700 labs and health care facilities in the Unites States and Canada, helps hematology labs derive top performance from their Sysmex automation solutions. Sysmex partners with Bio-Rad Laboratories, Hercules, Calif, in the hematology arena, with its Sysmex® XN-Series Automated Hematology Analyzers, to enable labs of any size to implement advanced clinical and operational capabilities. The series-wide compact design has a smaller footprint for increased physical productivity. Smaller reagent sizes and concentrated reagents simplify consumable inventory management. Scalable options exist for autovalidation approaches—from onboard decision rules to Sysmex WAM middleware. Handling by techs is eliminated, and that saves time, Tate says. Isolating positives from negatives results in the ability to focus on the smaller percent of positives, also increasing accuracy, speed, and efficiency.
The combination of automation and specialized middleware is the most effective way to handle hematology, Tate says. The company is adding to its product line with a management report module to track technicians' productivity for autovalidation/manual validation rates, turnaround time, and rules trigger rate rather than relying on the LIS. Sysmex WAM offers discreet data that can be exported to Excel, printed, or graphed, and is user-friendly.
Delta Rules
The fastest-growing area is in delta rules, Tate says. The extended delta rule module offered by Sysmex WAM provides a new dimension in delta and previous-result checking. The ability to check the presence or absence of a previous flag, coded comment, and/or operator alert between samples can determine if a smear or manual differential needs to be reflexed. The goal is to reduce the smear rate by checking if these data elements are present and do not need to be repeated over a specific time frame.
Resistance to adoption is partially a cost issue for labs, but looking at return on investment (ROI) over time will show that automation will help build needed capacity, Tate says. "Incremental changes in laboratory operation will not satisfy the current pressures to report results faster with increased accuracy," Tate says. "Big changes in the approach to laboratory operations have to occur to realize measurable efficiency gains, and this is even true for smaller laboratories."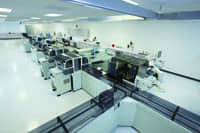 Aptio Automation from Siemens is a unified solution developed for the changing workload and expanding the needs of today's clinical lab.Overall Quality Improvements
Most sought-after for the best ROI will be automation technologies that can be personalized and adapted to meet evolving business and customer needs today and in the future, says Rita White, associate director, CAI business management, automation and IT Portfolio, Siemens Healthcare Diagnostics, Tarrytown, NY.
Purchasing, replacing, or expanding an automation system is a significant investment for any lab, White notes. When considering solutions, lab directors must have a clear vision for how automation can help move their laboratory's capabilities into the future. For example, laboratories should consider evaluating how IT can complement their investment by maximizing their input and output. It's also important for labs to work with a manufacturer that can assist them with evaluating the reorganization of their workflows and determining the best solution for their needs.
Aptio™ Automation is the latest offering in Siemens' automation solutions portfolio. Combining peak performance, adaptability, and intelligent technology with Siemens' signature automation workflow expertise, Aptio Automation is a unified solution developed for the changing workload and expanding needs of today's clinical lab. For example, Aptio Automation features a circular track and modular design that can be adapted to nearly any lab or testing environment. Also, by offering connectivity to Siemens' portfolio of automation-ready analyzers, Aptio facilitates a multidisciplinary approach to testing. Further, its point-in-space connectivity feature helps streamline workflow by reducing the need to aliquot samples, and its puck-based samples transportation system powered with RFID recognition enables individual sample routing and tracking, along with real-time STAT prioritization.
Additionally, Aptio Automation delivers comprehensive analytics via powerful, centralized information technology, while having the flexibility to provide pre- and postanalytical capabilities. [removed]Siemens' CentraLink™ Data Management System[/removed] facilitates efficient sample flow, autoverification, quick access to samples, and proactive quality control (QC). Plus, the CentraLink System can be customized per end-user, speeding up system access and supporting error reduction.
Gary Tufel is a contributing writer for CLP. For more information, contact Editor Judy O'Rourke, at [email protected].