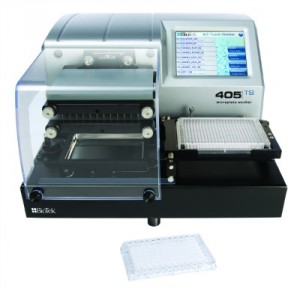 BioTek has received a patent addressing the use of ultrasonic devices to check for clogged manifold tubes and to clean the manifold tubes of a microplate washer automatically. The two features, Verify and Ultrasonic Advantage, are available on the company's 405 family of microplate washers.
When implemented on the 405 washer, Verify technology enables users to run an automated routine to check for blockages generally caused by protein or salt build-up in the manifold's aspirate and dispense tubes. Ultrasonic pulses determine whether the volume dispensed or aspirated per tube meets specified variation limits. Potential blockages are reported visually via the on-board touch screen display or software, or via the liquid handling control (LHC) PC software.
Once blockages are noted, users can run an automated cleaning routine using the Ultrasonic Advantage trough to immerse and clean all manifold tubes. Together, the two functions can help prevent potential assay failure and equipment downtime caused by blockages in the washer's narrow tubes. For more information, visit BioTek.