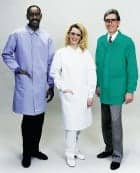 Splash-Resistant Lab Coat
Unisex reusable coats
DenLine Uniforms Inc, Quincy, Ill, offers DenLine Protection Plus DL170BJ Unisex reusable coats with a lightweight back providing the comfort of a 65%/35% polyester/cotton blend. Tested to ASTM D737, the air porosity of DenLine's exclusive light back material is 39.8 cubic feet per minute, some 2.6 times the breathability of the coat front and sleeves. DenLine's light back material offers the benefits of being splash resistant for complete 360° protection. The coats are also stain resistant, may be laundered in hot water (160°F) without the need for bleach to disinfect the garment, and are lint free. These new coats have a wash life some four times polyester/cotton, and 35% less cost over the product life.
DenLine Uniforms Inc
(800) 336-5463
www.denlineuniforms.com
---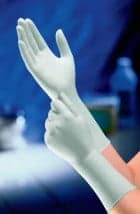 Sterile Nitrile Gloves
Manufacturing process boosts the glove's tensile strength
The KIMTECH PURE* G3 Sterile Sterling Nitrile Gloves from Kimberly-Clark Professional, Roswell, Ga, offers the protection of nitrile with the sensitivity of latex and superior strength. The manufacturing process boosts the glove's tensile strength to increase its barrier protection. The process also allows a reduction in glove thickness, so less force is required to stretch the material. The result is a latex-free glove with the dexterity and sensitivity of latex. Designed for a demanding lab environment, the gloves also help reduce environmental impact by delivering 50% more gloves per case than many traditional gloves (in the same case).
Kimberly-Clark Professional
(770) 587-8614
www.kimtech.com
---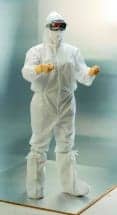 Cleanroom Apparel
Engineered to open easily
KIMTECH PURE* A5 Sterile Cleanroom Apparel from Kimberly-Clark Professional, Roswell, Ga, delivers reliable protection through a balance of comfort, protection, and efficiency. The garments are engineered to open easily, stay in place, and reduce the chance of contamination. An inside-out fold pattern presents the inside of the garment as the package is opened, reducing the risk of touching and contaminating the outside of the apparel, and built-in snaps that gather up the legs and arms to lower the risk of touching the floor automatically release as the garment is put on. A blue line along the inside of the garment signals the proper place to grasp while gowning, helping workers avoid touching the outside of the garment.
Kimberly-Clark Professional
(770) 587-8614
www.kimtech.com
---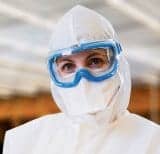 Sterile Face Mask
Protection against contamination
The KIMTECH PURE* M3 Sterile Pouch Face Mask from Kimberly-Clark Professional, Roswell, Ga, is recommended for use in ISO Class 3 or higher cleanrooms. It features a large breathing chamber that provides breathability, comfort, and airflow over pleated masks. The mask filtration is spread out over a larger area, reducing the chance for particle buildup. A low-lint polyethylene film outer layer provides protection against contamination, and a consistent seal around the bridge of the nose minimizes fog potential. The mask features two knitted headbands and fabric inner facing for better performance and comfort, and contains no natural rubber latex..
Kimberly-Clark Professional
(770) 587-8614
www.kimtech.com
---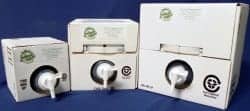 Liquid Formalin Neutralizer
Treats and destroys formalin waste
The Formalex® GREEN from Newcomer Supply, Middleton, Wis, is a liquid formalin neutralizer for sink disposal. This eco-friendly method safely treats and destroys formalin waste and other aldehyde waste solutions. The new formula makes Formalex GREEN a safe choice for you, your lab, and environment. The solution produces no sludgy residue, contains no phosphates, and requires no pH adjustment. Just add it to your formalin waste solution, allow adequate treatment time, and safely dump in a sanitary sewer.
Newcomer Supply
(800) 383-7799
www.newcomersupply.com
---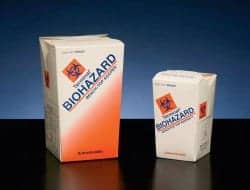 Biohazard Waste Containers
Dispose of contaminated nonsharps at your workstation
Disposable benchtop biohazard waste containers from Whitney Products Inc, Niles, Ill, help minimize the risk of contamination, adding a layer of safety for the lab professional. Use Whitney's containers to dispose of contaminated nonsharps—swabs, tubes, petri dishes, applicator sticks, and gloves—right at your workstation. When full, toss the entire container and replace it with a clean, new Biohazard Bench-top Keeper™.
Whitney Products Inc
(800) 338-4237
www.whitneyproducts.com/lab2
---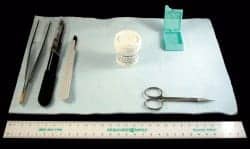 Foundation for Specimen Dissection
Absorbs and neutralizes formalin
The FAN Pad Ultra from Newcomer Supply, Middleton, Wis, is a unique foundation for specimen dissection that absorbs and neutralizes formalin, destroying its harmful vapors while dissecting tissue. The FAN Pad Ultra is designed to be dense enough to provide exceptional knife suppression while dissecting tissue, yet soft enough to reduce wear on dissecting blades.
Newcomer Supply
(800) 383-7799
www.newcomersupply.com
---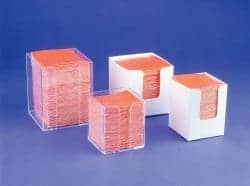 Biohazard Wipes
Limit spills and prevent spread of infection
Orange Biohazard Wipes from Current Technologies Inc, Crawfordsville, Ind, limit spills and prevent the spread of infection when wrapped around blood tubes and specimen cups in hospital pneumatic tube systems. The white, absorbent side is more absorbent than gauze or paper towels. The orange plastic side blocks soak-through of blood, body fluids, and specimens to pneumatic tube and workers' gloves. The wipes are available in three absorbencies—standard, extra heavy, and super sponge-plus—and in various sizes—3 x 3 inches, 4 x 4 inches, 8 x 9 inches, and 11 x 16 inches.
Current Technologies Inc
(800) 456-4022
www.currtechinc.com
---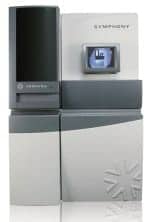 H&E Stainer
Slides are dried, stained, and coverslipped automatically
The VENTANA SYMPHONY system from Ventana Medical Systems Inc, Tucson, Ariz, enables the only fully automated, one-touch H&E process that offers new levels of productivity, safety, and quality. The system improves histology lab productivity through one-touch H&E slide processing. Slides loaded on the system are dried, stained, and coverslipped automatically. Individual slide staining is used on every patient slide, protecting against tissue cross-contamination. The individual application of fresh reagent to each slide produces consistently stained slides and exceptional clarity and improved visibility of microanatomic detail. It is a xylene-free system, reducing technician exposure to hazardous chemicals. The system also reads slide bar codes and interacts with the VENTANA VANTAGE system, providing complete visibility and chain of custody for patient samples.
Ventana Medical Systems Inc
(800) 227-2155
www.ventana.com
---
Benchtop Decapper
Rapidly and safely decap sample tubes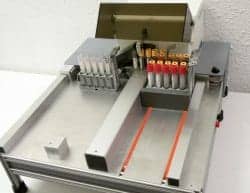 The Pluggo™ Rack Handler Decapping System for ADVIA® Centaur Racks from LGP Consulting Inc, Wood River, Ill, is an automated, benchtop decapper designed to rapidly and safely decap sample tubes using instrument-specific sample tube racks for the ADVIA Centaur or the ADVIA Centaur XP System. The small-footprint system (22 inches wide x 24 inches deep x 14 inches high) automatically decaps all standard vacuum collection tubes at speeds up to 35 tubes per minute. The Pluggo RH is designed to protect lab workers from repetitive motion injuries, cuts from broken tubes, and exposure to biohazardous material. Use of instrument system racks for decapping improves productivity and saves process steps for lab workers. It provides walk-away operations with input capacity of up to 15 racks and up to 15 output racks of uncapped tubes. Pluggo RH Systems are also available for racks from other manufacturers, including Roche, Abbott, Sysmex, iRIS, and Beckman Coulter.
LGP Consulting Inc
(877) 251-9246
www.lgpconsulting.com
---
Cube Container
Safely fill vials and other containers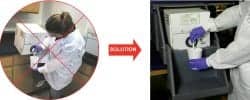 The SafeCube Dispenser™ from Newcomer Supply, Middleton, Wis, acts as a safety net to help minimize the risk of a formalin spill in the lab and clinic. The dispenser allows users to easily and safely fill vials and other containers while securely housing the cube container (up to 5 gallons in size). If there is a spill, the SafeCube Dispenser has two built-in alarms (filling tray and main cabinet) to alert your staff that a leak is occurring. If the leak occurs in the main cabinet, this area can contain the entire 5 gallons. This minimizes cleanup, expense, and time spent dealing with the spill, if one should occur. The SafeCube Dispenser measures 20 inches deep x 18 ½ inches wide x 17 inches high.
Newcomer Supply
(800) 383-7799
www.newcomersupply.com
---
Workflow System
Automates, streamlines, and integrates lab workflow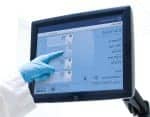 The VANTAGE workflow solution from Ventana Medical Systems Inc, Tucson, Ariz, allows labs to enjoy complete chain of custody, Lean integrated processes, and full visibility into lab operations any time, from anywhere. The Ventana complete workflow solution for histology labs—hardware, software, and workflow consulting—offers a commanding view of your complex operation from a single strategic perspective. It is an end-to-end product that automates, streamlines, and integrates lab work and information flow to provide maximum productivity and patient safety gains. The VANTAGE workflow solution is designed using Lean and Six Sigma principles, and includes expert workflow consulting support to help you obtain immediate and ongoing workflow benefits.
Ventana Medical Systems Inc
(800) 227-2155
www.ventana.com