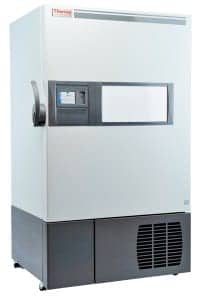 Ultra-Low Temperature Freezer
Provides energy-efficient cold storage
Thermo Fisher Scientific Inc, Milford and Waltham, Mass, has introduced the Thermo Scientific Revco UxF Series of ultra-low-temperature (ULT) freezers. These new freezers have been designed to provide labs with an energy-efficient approach to cold storage. The Revco UxF portfolio incorporates your choice of high-performance or energy-saving modes, which are easily selected by the user via the touch-screen interface. Providing sample protection while using significantly less energy than previous-generation Revco models, this new range of freezers helps labs obtain an energy-efficient approach to maintaining sample viability during long- and short-term cold storage. The Revco UxF Series of ULT freezers also offer temperature uniformity throughout the internal chamber.
Thermo Fisher Scientific Inc
(800) 678-5599
www.thermofisher.com
---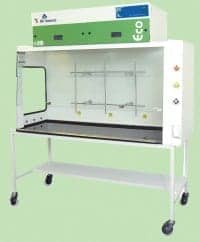 Ductless Fume Hood
For chemical and particulate protection
Air Science USA, Fort Myers, Fla, introduces the Purair ECO™ line of energy-saving ductless fume hoods designed for both chemical and particulate protection over a broad range of lab applications. This product line was developed in response to an increasing worldwide demand for safe, cost-effective, and energy-efficient ductless containment cabinets that minimize stress on facility HVAC systems without compromising protection for personnel and the environment. The Purair ECO is available with a choice of controllers, including the company's new ECOair™ touch pad control with color display interface. An optional BACnet network interface connects all cabinet control, monitoring, and alarm functions to an open-source facility monitoring system. The system is based on an industrywide, nonproprietary ASHRAE-compliant protocol for green building management. The Purair ECO is available in five standard sizes from 30 inches wide to 69 inches wide.
Air Science USA
(800) 306-0656
www.airscience.com