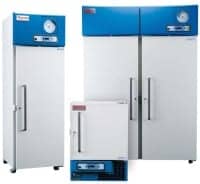 Laboratory Refrigerators
Thermo Scientific Jewett high-performance lab refrigerators and freezers from Thermo Scientific, Asheville, NC, are designed for critical lab storage, including vaccines, blood, and plasma. Advanced microprocessor control gives users precise temperature regulation and set point security. Adjustable shelves are easily removed for cleaning to help prevent contamination. Additional features include powerful industrial-grade compressors and positive, forced-air circulation, which together ensure a rapid return to the set temperature even with frequent freezer access. All models are equipped with visual and audible alarms, backed up by battery.
Thermo Scientific
(866) 984-3766
www.thermoscientific.com
---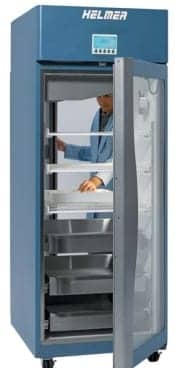 Pass-Thru Refrigerators
New Pass-Thru refrigerators, from HELMER, Noblesville, Ind, are now available in pharmacy/laboratory and blood bank models. They feature temperature uniformity with quick recovery, a self-closing door with magnetic gaskets, and a drawer mid-stop that helps to ensure proper closure to maintain airflow. A covered top on the clean room side prevents accumulation of dust particles in clean rooms. Custom storage options include drawers, roll-out baskets, shelves, and a skirt that attaches to conceal the space between the refrigerator and the floor. Pass-Thru refrigerators are available in both i.Series® and Horizon Series™ lines and in 25- and 56-cubic-foot capacity.
HELMER
(800) 743-5637
www.helmerinc.com
---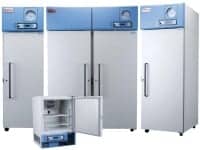 Laboratory Refrigerators and Freezers
Thermo Scientific Revco high-performance laboratory refrigerators and freezers, offered by Thomas Scientific, Swedesboro, NJ, are designed for medical and scientific applications requiring storage of reagents, pharmaceuticals, biologicals, and other commonly used laboratory materials. A range of models offers cabinet sizes to fit virtually any application need. Each refrigerator combines advanced microprocessor temperature control with an included alarm system. Positive, forced-air circulation maintains temperature uniformity to protect samples and inventory.
Thomas Scientific
(800) 345-2100
www.thomassci.com
---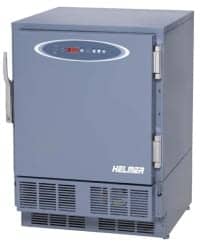 Scientific Series™ Undercounter Refrigerator
HELMER, Noblesville, Ind, launches the Scientific Series™ Undercounter Refrigerator, which can be placed under the counter, used freestanding, or stacked. It features superior temperature uniformity with quick recovery and a bacteria-resistant powder coating. The Scientific Series refrigerator features a self-closing, field-reversible door with a key lock. It has front ventilation and the fan shuts off during door openings, preventing intrusion of ambient air. The unit has an interior volume of 5 cubic feet with two shelves.
HELMER
(800) 743-5637
www.helmerinc.com
---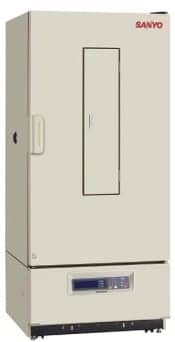 Refrigerated Incubator/Environmental Testing Chamber
SANYO North America Corp Biomedical and Environmental Solutions Division, Wood Dale, Ill, introduces the MIR-554 14.3-cubic-foot refrigerated incubator/environmental testing chamber. MIR series incubators are suitable for a number of applications requiring a -10°C to +60°C environment. With control up to ±0.1°C, programs can be customized for a variety of temperature, humidity, and lighting patterns. The unit includes a high-precision microprocessor controller combined with a heater P.I.D. and compressor on/off system, and the pop-up LCD menu can be set to display current conditions, program settings, as well as up to 2 weeks of data.
SANYO
(630) 694-8238
www.us.sanyo.com
---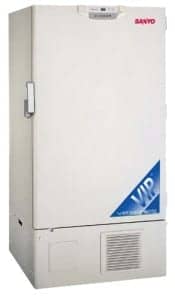 Ultra-Low-Temperature Freezers
SANYO North America Corp Biomedical and Environmental Solutions Division, Wood Dale, Ill, introduces its upgraded line of V.I.P.™ ultra-low-temperature freezers with improved compressor and cooling systems, which provide significant energy savings. The MDF-U74VC, MDF-U54VC, and MDF-U53VA feature an improved refrigeration system designed to deliver high-performance cooling with increased storage space and improved usability. The patented V.I.P.™ Vacuum Insulation Panel thin wall composite yields more interior storage volume. Cool Safe™ ultra-low-temperature compressors are balanced to decrease component stress, increase system longevity and reliability, and improve temperature uniformity.
SANYO
(630) 694-8238
www.us.sanyo.com
---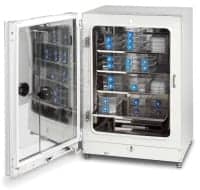 Cell Culture Incubator
SANYO North America Corp Biomedical and Environmental Solutions Division, Wood Dale, III, offers the Sterisonic™ GxP, MCO-19AIC(UVH) cell culture incubator, which uses the industry's first rapid H2O2 sterilization system, a less-than-3-hour decontamination process. Patented Active Background Contamination Control™ fights contamination while cell culture protocols are in process, while the patented SafeCell™ UV system scrubs interior airflow to destroy airborne and humidity pan surface contaminants. Exclusive inCu saFe™ copper-enriched stainless steel interior surfaces assure constant germicidal protection. It also features a patented Direct Heat/Air™ conditioning system.
SANYO
(630) 694-8238
www.us.sanyo.com
---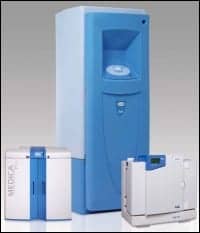 Water Purifiers
Siemens Water Technologies, Lowell, Mass, offers a range of water purification systems to produce high-purity water to meet CLSI clinical laboratory reagent water (CLRW) standards to feed clinical chemistry and immunodiagnostic analyzers. The MEDICA® range of water purifiers features built-in, multitechnology processes, including RO, photo-oxidation, deion-ization, microfiltration, and microprocessor-controlled monitoring to ensure high-quality water for reproducible and accurate diagnostic test results. Sign up on the company's Web site to receive a free educational clinical lab water guide.
Siemens Water Technologies
(800) 875-7873, ext 5000
[removed]www.siemens.com/bacteria_free[/removed]