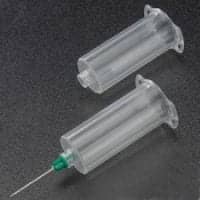 Multisample Needle Holders
Fit all common needle units
OSHA-compliant multisample needle holders, from Globe Scientific, Paramus, NJ, help eliminate hazards associated with reusable needle holders. Made from unbreakable polypropylene, the needle holders are designed to be used once and discarded, with the needle attached. They can also be used with blood-collection needles with integrated safety shields. The needle holder fits both 13-mm and 16-mm blood-collection tubes and all common needle units. Needles lock securely into threads at the tip of the holder.
Globe Scientific
(201) 599-1400
www.globescientific.com
---
Powder-Free Nitrile Gloves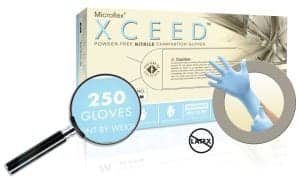 Durable, disposable laboratory gloves
Microflex XCEED powder-free nitrile gloves from Thomas Scientific, Swedesboro, NJ, utilize a new manufacturing process to deliver enhanced strength, tactile sensitivity, and reduced hand fatigue. The new formulation raises the bar in durability in disposable examination gloves. The gloves are engineered to give you the fit and feel of latex—this nitrile is up to 60% stronger than leading nitrile brands. In addition, each box contains 250 gloves. The gloves are recommended for use in dental, health care, laboratory, industrial safety, and manufacturing settings.
Thomas Scientific
(800) 345-2100
www.thomassci.com
---
Safety Tube Holder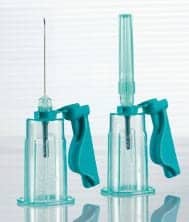 Reliable infection protection
The VACUETTE QUICKSHIELD Safety Tube Holder from Greiner Bio-One GmbH, Kremsmünster, Austria, is suited for routine blood collection. There is no change to usual collection technique. The safety shield is activated one-handed with the aid of a solid surface or thumb. This product provides simple handling and reliable infection protection. Once activated, it is not possible to unthread the used needle, thereby additionally preventing injuries on the back end of the needle sleeve. It is also available as a complete product with a preassembled VACUETTE VISIO PLUS or a VACUETTE Multiple Use. The VACUETTE VISIO PLUS Needle with optical venipuncture control eases blood collection. With the transparent view window in the needle hub, blood flow is visible immediately upon correct vein penetration.
Greiner Bio-One GmbH
+43 (0) 7583 6791-0
www.gbo.com/preanalytics
---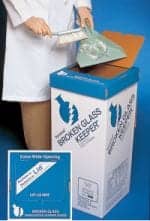 Broken Glass Keepers
Collect nonbiohazardous glass
Safely collect broken glass and other noncontaminated sharp objects, and reduce the risk of injury from nonbiohazardous glass, with Terminal brand Broken Glass Keepers from Whitney Products Inc, Niles, Ill. Made from sturdy paperboard, Broken Glass Keepers in benchtop and floor models are lined with plastic to contain moderate amounts of liquid. The containers store flat, saving space, and can fold together for use.
Whitney Products Inc
(800) 338-4237
www.whitneyproducts.com
---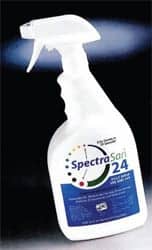 SpectraSan 24
Disinfects in as little as 30 seconds
SpectraSan 24, from BioTech Medical Inc, North Canton, Ohio, can be used to kill dangerous germs on hard surfaces in a wide variety of medical settings. Unlike traditional alcohol- or bleach-based surface disinfectants, SpectraSan 24 requires no hazard or warning statements and carries bacterial kill times as quick as 30 seconds, compared with 10 minutes for competing products. These benefits are due to SpectraSan 24's SDC technology, the first new disinfectant with active ingredients to be registered with the US Environmental Protection Agency (EPA) in more than 30 years. SDC provides powerful protection and continues to kill bacteria for up to 24 hours after usage, yet it holds an EPA Category IV toxicity rating, the lowest classification available. SpectaSan 24 provides powerful protection even against Norovirus, Influenza A (H1N1), SARS, HIV, and antibiotic-resistant pathogens such as MRSA, CA-MRSA, and VRE.
BioTech Medical Inc
(800) 284-9857
www.spectrasan.com
---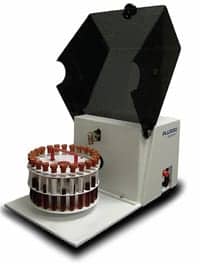 Pluggo
Benchtop decapper
Pluggo by LGP Consulting Inc, Wood River, Ill, is a benchtop safety device for the automatic decapping of original vacuum sample collection tubes. The standard Pluggo occupies only 16 x 10 inches of counter space. The device protects fingers, hands, and wrists from the aches and the potential repetitive stress injuries associated with decapping. The Plexiglas hood is small and is incorporated in the system's operation while it protects you from exposure to aerosols. It accommodates all standard vacuum-collection tube sizes, from 12 mm to 16 mm in diameter and 75 mm to 100 mm in height, and simultaneously accommodates rubber and plastic caps, and glass or plastic tubes.
LGP Consulting Inc
(877) 251-9246
www.lgpconsulting.com
---
Human Urine Quality Control
Liquid, ready-to-use control
Liquichek Qualitative Urine Toxicology Control from Bio-Rad Laboratories, Irvine, Calif, is a human urine quality control, designed to provide unbiased third-party assessment of qualitative rapid urine drug screen panels, including point-of-care test kits. This liquid, ready-to-use product contains 17 common drugs of abuse or drug metabolites at a negative, drug-free level and a positive level. The insert includes qualitative (+/-) results for popular kits and recovery values by confirmatory test methods. Liquichek Qualitative Urine Toxicology Control has a 3-year shelf life when stored at 2ºC to 8ºC and can be stored at 2ºC to 25ºC for up to 30 days after opening.
Bio-Rad Laboratories
(800) 2-BIORAD
www.bio-rad.com/toxcontrols