Automated Molecular Test for MRSA
Detects seven MRSA types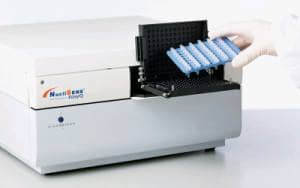 bioMérieux, Durham, NC, has received 510(k) clearance from the FDA for its NucliSENS EasyQ® MRSA, an automated molecular test for methicillin-resistant Staphylococcus aureus (MRSA). The test detects seven MRSA types, covering the most prevalent strains, and simultaneously detects two targets, which provides added confidence to the screening results. The system will support efficient batch processing of up to 46 MRSA screening tests in a compact space with a rapid turnaround time of 3 hours. The system delivers real-time actionable results, which enable more informed clinical decisions. The NucliSENS EasyQ MRSA test was cleared with a clinical sensitivity of 94.7% and a clinical specificity of 96.5% when testing nasal samples from adult patients. The assay also received clearance with a clinical sensitivity of 100% and a clinical specificity of 97.3% when testing nasal samples from pediatric patients.
bioMérieux
(800) 682-2666
www.biomerieux.com
---
Automated Immunoassay System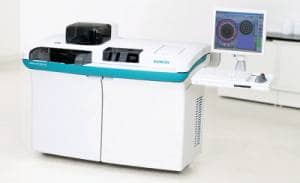 Large automated immunoassay test menu
Siemens Healthcare Diagnostics, Deerfield, Ill, has received FDA clearance for its IMMULITE® 2000 XPi Immunoassay System. The system offers a large automated immunoassay test menu and features several innovative hardware and software solutions to enhance productivity and efficiency for medium- to high-volume clinical laboratories. New workflow efficiency and productivity features include AutoStart, which automates daily maintenance, and an automated rack loader, which enables users to load patient samples without pausing the system. The system also delivers Internet-based remote monitoring capabilities and an enhanced user-friendly, touch-screen interface.
Siemens Healthcare Diagnostics
(847) 267-5300
www.siemens.com/healthcare