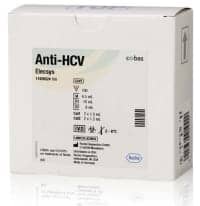 cobas p 501 Postanalytical Unit
Automated storage and retrieval in a compact footprint
Developed to help streamline a lab's workflow and manage the entire life cycle of a sample tube, the cobas p 501 postanalytical unit, from Roche, Indianapolis, is designed to provide automated storage and retrieval for up to 30,000 sample tubes in a compact footprint (17 linear feet). It connects directly to Roche automation, can store up to 400 samples per hour in a convenient refrigerated environment, and automatically disposes of samples after a designated period of time. The unit can also receive sample retrieval requests for add-on tests immediately through integration with the laboratory information system.
Roche
(317) 521-2000
www.roche.com
---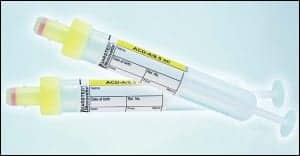 ACD-A S-Monovette
Collection tube contains USP formula ACD-A solution
Sarstedt, Newton, NC, now offers an 8.5-mL S-Monovette® plastic blood-collection tube containing USP formula ACD-A solution. Suitable for blood bank tests and histocompatibility testing, it features standard yellow color-coding and a fill line. The tubes are manufactured from virtually unbreakable plastic and feature a hygienic screw cap with an integral, easy-to-puncture membrane. Tubes can be operated using either a vacuum or aspiration technique and connect via a 3-pin locking system to corresponding safety needles. In addition to ACD-A, a full range of additives and volumes are available.
Sarstedt
+44 8448443737
www.sterilin.co.uk
---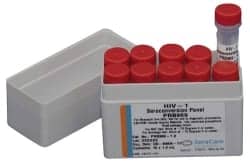 HIV Seroconversion Panels
For current assay qualification
SeraCare Life Sciences, Milford, Mass, introduces six new, ready-to-use HIV seroconversion panels, each containing a set of undiluted plasma samples from a single plasma donor during a period of HIV seroconversion. Data sheets for each panel list results from 20 US and International test methods for markers of HIV infection, including HIV RNA, first- to fourth-generation screening tests for HIV, confirmatory tests, and a rapid discriminatory method. A seroconversion graph of critical data points is also included. Enhanced online data will allow the company to provide timely updates whenever new test data are available.
SeraCare Life Sciences
(800) 676-1881
www.seracare.com
---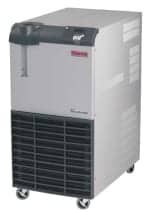 NESLAB ThermoFlex Recirculating Chillers
New platform offers increased cooling capacity
Thermo Fisher Scientific Inc, Milford, Mass, launches its Thermo Scientific NESLAB ThermoFlex Series of recirculating chillers with a cooling capacity of 24,000 watts. The ThermoFlex chiller platform was developed with customer input from concept to design. Each chiller includes water filters that can be changed while the unit is in operation and an intuitive user interface for ease of operation. End users benefit from a quick start guide for seamless start-up in minutes. Designed as a modular platform, it features a wide variety of options and cooling capacities that users can select and configure for diverse applications.
Thermo Fisher Scientific Inc
(800) 258-0830
www.thermoscientific.com
---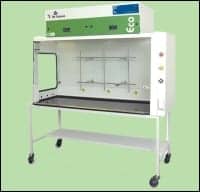 Purair ECO Fume Hoods
Energy-saving, ductless hoods
Air Science USA, Fort Myers, Fla, now offers its new Purair ECO™ line of energy-saving ductless fume hoods designed for both chemical and particulate protection over a broad range of laboratory and industrial applications. The hoods are available with a choice of controllers, including the company's new ECOair™ touch pad control with color display interface. An optional BACnet network interface connects all cabinet control, monitoring, and alarm functions to an open-source facility monitoring system. The system is based on an industry-wide, nonproprietary ASHRAE-compliant protocol for green building management. The Purair ECO is available in five standard sizes from 30 to 69 inches wide.
Air Science USA
(800) 306-0656
www.airscience.com