Digital IHC Solution
Helps improve IHC scoring

The Digital IHC solution, from Aperio Technologies Inc, Vista, Calif, allows users to improve the accuracy and consistency of IHC scoring, decrease turnaround time from glass slides to reports, improve access to pathologists, and increase communication with oncologists and patients while simplifying the slide-handling process. Pathologists can also use the company's multiuse platform for other applications as well, including secondary consultation, tumor boards, quality assurance programs, proficiency training, testing programs, and more.
Aperio Technologies Inc
(866) 478-4111
www.aperio.com
---
Genie Histology Pattern-Recognition Tool
Identifies tissue types across entire tissue sections

Aperio Technologies Inc, Vista, Calif, offers its Genie™ histology pattern-recognition tool, which enables pathologists to perform automatic whole-slide image analysis. No image analysis expertise is necessary to train the tool with examples of the different tissue types users are interested in. The tool then identifies the different tissue types automatically across entire tissue sections. In conjunction with Aperio's quantitative image-analysis tools, Genie provides pathologists with an automated whole-slide image analysis solution applicable to a wide variety of applications and disease areas. The new release supports classifier development and pattern recognition for fluorescence images, along with a new fluorescence algorithm for area quantification.
Aperio Technologies Inc
(866) 478-4111
www.aperio.com
---
HistoStar Embedding Workstation
Assists in tissue preparation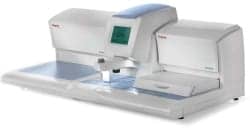 Thermo Fisher Scientific, Kalamazoo, Mich, introduces its Thermo Scientific HistoStar Embedding Workstation, designed to address the tissue-preparation needs of busy histology labs. The workstation features bright illumination using uniformly distributed LED light sources and cool, contoured user contact surfaces that are thermally insulated. It also features a high-capacity paraffin tank and base mold storage area and an adjustable paraffin-dispensing paddle to accommodate any sample size. An intuitive touch screen interface helps users set programmable features, and an integrated ParaTrimmer® heated wax trimmer is built directly into the workspace.
Thermo Fisher Scientific Inc
(800) 522-7270
www.thermoscientific.com
---
Wave RPD System
Second-generation IHC staining platform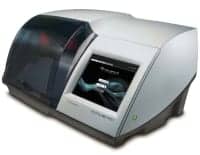 Celerus Diagnostics, Carpinteria, Calif, introduces its second-generation immunohistochemistry (IHC) staining platform—the Wave RPD system—which performs proprietary Rapid IHC® from deparaffinization to counterstain. Automated, high-quality IHC results are available in about 1 hour for formalin-fixed, paraffin-embedded tissue, and in 15 minutes for frozen tissue. Features include standardized results, improved workflow, and high-quality staining results. ANTIBODY INTELLIGENCE™ Web-based software provides users with remote access from any laboratory computer. PLUG-N-PLAY REAGENTS® are ready-to-use, cartridge-based consumable products that require no preparation time. To help minimize environmental impact, the system also features no liquid hazardous waste.
Celerus Diagnostics
(888) 444-8918
www.celerusdiagnostics.com
---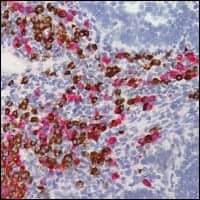 RISH
A new chromogenic ISH technology
Biocare Medical, Concord, Calif, introduces RISH™, a new chromogenic ISH technology reducing protocol length from 2 days to approximately 2.5 hours. In a simplified protocol the company has removed the need for RNase-free solutions and labware, the overnight hybridization, and harsh stringent wash conditions. The proprietary DNA probe technology ensures high specificity and accuracy for the target. The result is virtually no background and a clean chromogenic signal. Users can visualize the target under brightfield microscopy, along with the tissue morphology, on a single slide. The company will be launching with a small subset of probes initially. These RISH Probes are designed for the diagnosis and classification of hematopoietic and lymphoid neoplasms: EBER, Kappa, and Lambda Light Chain.
Biocare Medical
(800) 799-9499
www.biocare.net
---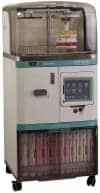 Pathos Delta
Rapid hybrid tissue processor
Milestone Medical, Kalamazoo, Mich, offers the Pathos Delta, a rapid hybrid tissue processor that helps users significantly reduce tissue processing times, fully document protocols, and enable increased flexibility in your processing step. Users can process tissues up to 5 mm in thickness (full standard cassette and larger specimens with custom programming) with the capability of running protocols either as a xylene-free, rapid, vacuum microwave processor or as a conventional vacuum processor using xylene, if desired. Lower operating cost is achieved through reduced reagent use and an open system architecture.
Milestone Medical
(866) 995-5300
www.milestonemed.com
---
iScan Coreo Au
For high-capacity slide scanning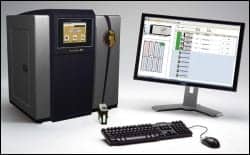 The iScan Coreo Au, from BioImagene, Sunnyvale, Calif, (acquired by Ventana Medical Systems Inc, a member of the Roche Group) is a high-throughput, high-slide-capacity brightfield scanning system designed to digitize glass microscope slides and create high-resolution digital images. The system provides high-speed, walkaway scanning of slides with high image quality, and is fully integrated with the company's Virtuoso software application to provide an end-to-end management, viewing, image-analysis, and reporting system. Features include an autoloader for walkaway scanning of up to 160 slides, automatic tissue region identification, automatic laser-based slide detector, volume scan with multiple planes, and an integrated image viewer that supports annotation and remote viewing.
BioImagene
(408) 207-4200
[removed]www.bioimagene.com[/removed]
---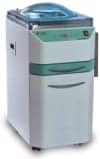 TissueSAFE
High-vacuum formalin-free tissue transportation
Reduce formalin exposure for surgical and histology personnel, preserve RNA/DNA for advanced testing, and gain control of tissue-fixation start times with the Milestone TissueSAFE from Milestone Medical, Kalamazoo, Mich. The TissueSAFE enables higher-quality lab results by standardizing and documenting collection times, transfer environments, and storage temperature, which up to now have been hard to control.
Milestone Medical
(866) 995-5300
www.milestonemed.com
---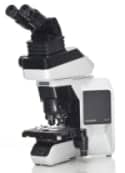 BX46 Upright Microscope
The new BX46 upright microscope, from Olympus America Inc, Center Valley, Pa, was engineered from the ground up with ergonomic and economic concerns in mind, and features a low stage height, an adjustable observation tube, and standard Olympus color-balanced LED. The new tilting, telescoping, and lifting observation tube allows users to adjust the microscope to suit individual needs. An updated, Y-shaped frame brings the user controls forward for ease of access. The light action, low torque stage reduces the force needed to move the specimen. Users can move the low-position handles with just a tap of the fingertips.
Olympus America Inc
(800) 446-5967
www.olympusamerica.com
---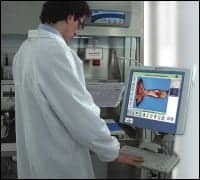 MacroPATH D
Macro imaging for the grossing environment
The MacroPATH D from Milestone Medical, Kalamazoo, Mich, allows users to quickly capture and annotate digital images of gross specimens for use in patient reports, QC, tumor boards, and publications. An all-in-one touch screen CPU, autofocus and auto light adjusting cameras, and easy-to-use annotation tools automate this step in histology grossing, autopsy, and forensic environments. The system can operate as a stand-alone unit or work in conjunction with an LIS or PACS.
Milestone Medical
(866) 995-5300
www.milestonemed.com