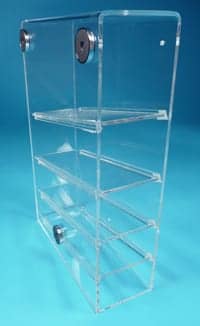 Sturdy acrylic pipette stands and serological pipette holders from Poltex, Bend, Ore, help labs organize efficiently and conserve precious space.
Powerful magnets allow you to attach the serological pipette holder (right) to any metallic surface, and it features a flat top for extra storage. The holder is available in two sizes—regular and extra-wide—and with or without magnets for other placement options.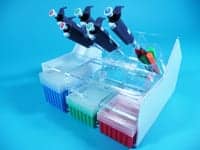 The pipette stands (left, below) offer space savings and organization of commonly used items for your workstation. The hole diameter is 15/16-inch with a 3/8-inch diameter cutout. The hole pattern on the racks fit Rainin or equivalent pipettes.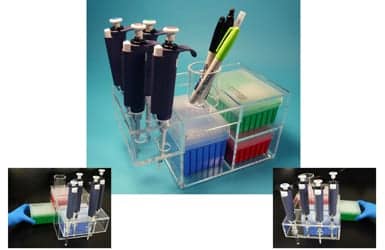 The company's products are designed by laboratorians for laboratorians for ultimate utility. If you can't find exactly what you're seeking from its existing product lines, Poltex specializes in affordable custom fabrication and can modify any of of its existing products to suit your exact needs or work with you to create products de novo based on your exact requirements.
Visit the company's website to see its full line of products, and for custom inquiries, contact [email protected].
[Poltex LLC]