Drugs-of-Abuse testing is moving out of the lab and into the hospital.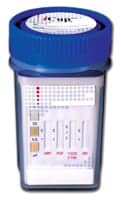 Instant Technologies' iCup all-inclusive testing product can detect up to 11 drugs within 5 minutes.
While firmly ensconced in the emergency departments and clinical laboratories, drugs-of-abuse (DOA) testing is moving out of its traditional environments to help corporations screen employees, while providing a revenue opportunity for hospitals.
"We are seeing more employment testing being done at traditional hospital labs," says Scott Taillie, national products manager for Instant Technologies Inc, Norfolk, Va. "The occupational health clinic will contract with local employers, and they will send their employees in for their occupational medicine screening, then that lab will do the on-site drug testing."
Instant Technologies produces the iCup for those involved in screening in occupational health and occupational medicine. Within 5 minutes, the all-inclusive testing product can detect up to 11 drugs.
"With occupational health and occupational medicine, testing is primarily done with the five-panel, along with the adulteration," Taillie says. All of Instant Technologies' urine and clinical tests have an FDA 510(k) clearance. "It's all done at the same time, with no fuss and not requiring any other steps."
"Cheating" the test is a thing of the past, thanks to the integrated adulteration screening. This means that the test itself screens for sample substitutions, dilutions, or adulterations in case somebody tampered with the urine sample. The iCup screens for specific gravity oxidants and pH, producing a colorimetric change.
The iCup also provides practical features for human resources (HR) professionals, such as a photocopy template; the results card has a flat front, making it possible to obtain a high-quality copy so a permanent record can be included in the HR file.
Friends Don't Let Friends …
Breath alcohol devices, such as those manufactured by Akers Biosciences, Thorofare, NJ, are also commonly employed by HR departments—as employment-screening tools and methods of reinforcing zero-tolerance abuse policies.
"I think when people traditionally think of drugs and abuse they only think of cocaine and marijuana, but if you look at statistics, an overwhelming majority of automobile crashes, for instance, are related to alcohol," says Patrice McMorrow, director of marketing at Akers Biosciences Inc, Thorofare, NJ. Akers offers two distinct product lines, including the BreathScan® and the Breath Alcohol Check .02 Detection System. "Alcohol abuse is a really big issue, and it needs to be dealt with; zero-tolerance testing is certainly an important step," McMorrow says.
In four steps and 2 minutes, the FDA-cleared BreathScan is a single-use, disposable device designed to be simple to use. In addition to screening potential employees, the tests are popular for "reasonable suspicion" testing, and are used to verify whether current employees are on shift under the influence of alcohol. BreathScan Detectors, which indicate the person's minimum blood-alcohol level, are available in breath alcohol levels of .02%, .04%, .05%, and .08%.
"In a hospital-type scenario with the human resources angle, they look at .02 and .04, because they just want to know if the person is under the influence to any extent, and a .02 is really a good zero-tolerance–type measure," McMorrow says. If somebody blows a .02, then the crystals will change from a yellow to an aqua color. "Ours is not an evidentiary test; ours is considered a breath-alcohol screening device, so if the test did indicate a positive result, then the facility might bring in law enforcement to do an evidentiary test, which is a little bit more rigorous."

Akers' BreathScan (above) and Breath Alcohol Check (below) are commonly used for employment screening.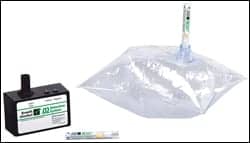 Expanding on the basic BreathScan, Akers also offers the Breath Alcohol Check .02 Detection System. This product comprises three components: a breath alcohol detector, a blow bag, and an electronic analyzer, all of which are packaged in a water-resistant box that has a 3-year shelf life. Until expired, the breath test does not require any type of calibration.
"It is designed to be a disposable electronic, because the analyzer is calibrated to a specific lot of the testers, which ensures testing consistency," McMorrow says. "The kit comes with 25 breath alcohol detectors in it, and once you exhaust them, you just throw everything out."
Subjects blow to inflate the bag, guaranteeing that enough air is put through the tube to get an accurate result. The tube is then placed into the analyzer and a result is displayed instantly.
"It takes the subjectivity out of the read," McMorrow says. "First, it's going to make sure that the person is blowing sufficiently, and second, [it's] putting it into an electronic device and taking subjectivity out of reading the crystals."
The Breath Alcohol Check also meets the requirements for breath-alcohol screening devices established by the US Department of Transportation (DOT), which means it is qualified for testing employees in a DOT-regulated environment, including those who have commercial driver's licenses, for example, and those who drive on property for hospitals.
Being able to keep a supply of the breath-alcohol tests on hand can have its own benefit.
"If employees know there is something on hand that can easily be pulled out if somebody exhibits signs of being under the influence, then it's somewhat of a deterrent," McMorrow says. "This is possible because it's very easy to store the kit."
Providing Alternatives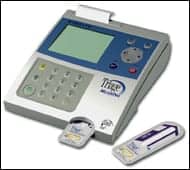 Biosite's Triage TOX Drug Screen is a rapid, qualitative urine analysis that provides results in 10 to 15 minutes.
One of the fastest-growing DOA testing methods in forensics is the oral fluid specimen, and labs are getting involved. "We also see saliva tests for infectious diseases becoming predominant not only in the ER, but in physicians' offices," says Stan Cipkowski, founder and CEO of American Bio Medica Corp, Kinderhook, NY. "And we already have a saliva HIV test that we built; [we] are looking for an appropriate partner."
ABMC's OralStat is a point-of-collection test that combines the convenience of oral fluid collection with the sensitivity, accuracy, and precision of a laboratory-based test, providing results in about 16 minutes.
Earlier this year, the company released the OralStat EX, which has a collection swab with a volume indicator so that the correct volume is collected each time, ensuring optimal test performance. The oral fluid sample is then expressed into a separate transportable bottle containing a buffer solution, and after the initial screen has been performed there is ample solution remaining to send to a laboratory for confirmation of non-negative test results.
ABMC is releasing a third product in this line in the second quarter of 2007. "A lot of the problem right now is getting the costs down," Cipkowski says. "There are inexpensive saliva tests on the market, but they are just not very sensitive; they detect marijuana at about 10,000 nanograms, for example." His company's Rapid TOX test picks up marijuana at as low as 25 ng. Its urine tests are 99.9% accurate. "And we are going lower," he adds. "We are focusing on being more sensitive and more accurate, while also trying to get the cost down, and as the product evolves, we will accomplish that."
Keeping It In the Lab
Akers' current focus in the clinical laboratory is the PIFA Heparin/PF4 Rapid Assay, which is a rapid manual heparin antibody test. "What has been done traditionally in the laboratory is, if the lab has the capability, it will run an ELISA test, which is basically an antigen assay," McMorrow says. The PIFA Heparin/PF4 Rapid Assay returns results in an average of 10 minutes. "It is very complex and takes a considerable amount of time. With our test, it is generally half of the cost and gives a quicker result."
Even labs routinely running ELISAs can benefit from Akers' test, which is CLIA classified as moderate complexity.
"A lot of times the lab only runs ELISAs once a day or once every few days, so it is not possible to get results in a short period of time," McMorrow says. "This test could also be a nice adjunct to include in a laboratory for those types of scenarios. It is also ideal for small labs."
Quick cassette testing
Initially intended for use in the stat/ER environment, the iCassette™ from Instant Technologies is finding considerable success in the clinical lab. CLIA-waived panels are available for the test, which detects one to 12 drugs on 3 mL of specimen, providing results in minutes.
American Bio Medica Corp (ABMC) also supplies its cost-effective cassette test, Rapid TOX, to hospitals for use on the floor as well as in the lab. The tamper-proof test detects two to 10 drugs of abuse in urine either by pipetting or dipping. A control line indicates read time, which means timing is not required.
Results are ready within 5 minutes and are stable for up to 8 hours. ABMC is also approaching the over-the-counter market.
Biosite Inc, San Diego, continues to create a number of lab-based tests. Its new Triage TOX Drug Screen with Acetaminophen (APAP) includes a rapid point-of-care test for the qualitative detection of acetaminophen in urine.
"According to the National Academy of Clinical Biochemistry guidelines, every patient suspected of intentional drug ingestion should be screened for acetaminophen in 1 hour or less," says Ken Buechler, PhD, Biosite president and chief scientific officer. "Because the Triage TOX Drug Screen uses the Triage MeterPlus platform, which produces results in approximately 15 minutes at the point-of-care, we believe it can improve turnaround time for acetaminophen screening."
Biosite's tests can detect the presence of acetaminophen in urine as soon as 30 minutes after the ingestion of a therapeutic dosage of extra-strength acetaminophen tablets in adults.
The Triage TOX Drug Screen, which is a rapid, qualitative urine screen that provides results in approximately 10 to 15 minutes, will be available in three different combinations of analytes to cover the eight major classes of drugs: Triage TOX Drug Screen APAP & PCP, Triage TOX Drug Screen APAP & THC, and Triage TOX Drug Screen PCP & THC.
Want to read more? Search for "drugs-of-abuse" in our online archives.
Biosite also recently added methadone to its Triage TOX Drug Screen menu, which means the product now covers 10 drug classes for the qualitative determination of acetaminophen/paracetamol, amphetamines, methamphetamines, barbiturates, benzodiazepines, cocaine, methadone, opiates, phencyclidine, THC, and tricyclic antidepressants.
The downside is that drugs of abuse are here to stay. The upside is that manufacturers are making tests that are faster, more affordable, and impressively accurate. These efforts help administrators and clinicians alike, increasing the safety and certainty of their actions and benefiting patients and health care professionals.
Dana Hinesly is a contributing writer for  CLP. For more information, contact .