The Digital Pathology Association (DPA) is again offering a mobile app for the annual Pathology Visions conference in concert with its print program.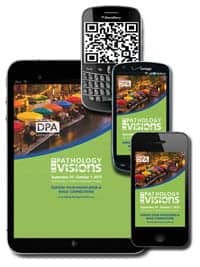 Pathology Visions 2013 will be held from September 29 to October 1, in San Antonio, Tex, at the Grand Hyatt.
The Pathology Visions 2013 mobile app can be downloaded now on any Apple or Android smart phone or tablet.
The mobile app includes:
Personalized and master schedule
Speaker profiles
Exhibitor list and maps
Photo gallery
RSS feeds
Local places
Click here to download the mobile app from the Apple App Store, click here for Google Play.
Those who download the app will receive daily alerts for the days' events (from which a personal schedule of all the presentations can be created), access to all speaker and exhibitor profiles, ability to view conference and hotel maps instantly, and a full directory of San Antonio attractions, restaurants, and shopping.
A new feature for the mobile app is the "Attendees" section. Conference attendees are able to create a profile and connect with fellow attendees by sending them a friend request.
[Source: DPA]