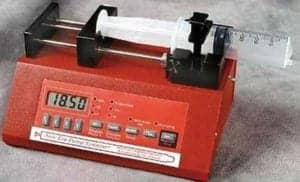 Microfluidics Syringe Pump
Features up to 41 programmed pumping phases
New Era Pump Systems Inc, Wantagh, NY, offers the NE-1002X Microfluidics Syringe Pump. The Microfluidics Syringe Pump has superior resolution—4.25 nanometers per step—allowing the NE-1002X to perform smooth pumping at extremely low flow rates. The NE-1002X, as part of the NE-1000 family of pumps, features up to 41 programmed pumping phases that change pumping rates, set dispensing volumes, insert pauses, control and respond to external signals, and sound an alarm, as well as available increased program memory and the ability to operate stand-alone, by a computer, a foot switch, or with other lab equipment.
New Era Pump Systems Inc
(631) 249-1392
www.syringepump.com
---
ElectroPrep System
Reusable sample chambers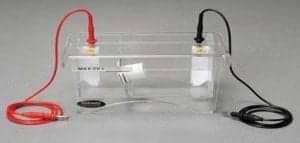 The ElectroPrep System from Harvard Apparatus, Holliston, Mass, is a patented sample prep technology based on electro-dialysis and can be used for electro-dialysis, electro-elution, electro-filtration, electro-fractionation, or electro-concentration for running a sample simultaneously into multiple molecular weight cutoff (MWCO) fractions. The ElectroPrep System supports a broad range of membranes and can be used for the rapid purification of proteins, nucleic acids, carbohydrates, and other biomolecules. The new reusable sample chambers are made of PTFE for high sample recovery and have been redesigned to provide larger membrane surface areas for even faster dialysis rates. These ElecroPrep dialyzers are of 50 µL to 1500 µL volume and can be joined with a Union or one or two Link Chambers in different combinations and membranes.
Harvard Apparatus
(508) 893-8999
www.harvardapparatus.com
---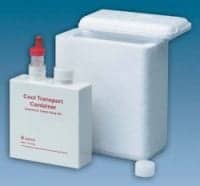 Cool Transport System
Specimens are kept frozen for 12 to 15 hours
The Cool Transport System, from Sarstedt Inc, Newton, NC, enables safe shipment of two frozen specimen tubes of 10 mL volume in compliance with P650 Packaging Instructions. The system is comprised of a coolant-filled Cool Transport Container, absorbent liners, Styrofoam packaging, and a custom mailing box. Specimens are kept frozen for 12 to 15 hours, and the Cool Transport Container can be reused.
Sarstedt Inc
(800) 257-5101
www.sarstedt.com