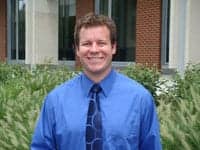 Clark Kebodeaux, PharmDEach year, scientists choose what they believe will be the three most common forms of the flu to spread during the winter months and incorporate them into the annual vaccine.
Until now, flu vaccines have only protected against three forms of the virus.
For the first time, there will be a vaccine that protects against four strains of the flu virus, according to the St Louis College of Pharmacy, St Louis.
"The real need for the vaccine with four flu viruses comes if that additional virus begins to circulate," says Clark Kebodeaux, PharmD, BCACP, assistant professor of pharmacy practice. "At this early point, it's not certain what types of flu will cause the most illnesses."
This year's new vaccine containing four varieties has those three flu forms and an additional version of the virus.
Vaccines will be available through two forms of injections and a nasal spray.
Adults with egg allergies have a new option as well. An egg-free version of the vaccine is available, but it is only for adults ages 18 to 49.
[Source: St. Louis College of Pharmacy]