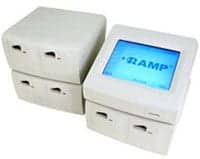 Response Biomedical Corp, Vancouver, British Columbia, has entered into a distribution agreement with Laboratory Supply Company Inc (LABSCO), to distribute its cardiovascular portfolio of RAMP® products in the United States exclusively to hospitals with less than 150 beds.
The agreement covers an initial term of 3 years and is renewable annually thereafter upon mutual agreement.
LABSCO will initially market Response"s cardiovascular POC test panels on the RAMP Reader in all settings and on the RAMP 200 reader in laboratory settings. Response will continue to market the cardiovascular POC test panel on both the RAMP 200 reader and RAMP Reader outside the US, and the RAMP® Flu A+B Assay and RAMP® RSV Assay on the RAMP® 200 reader globally where approved for sale by relevant regulatory authorities.
The RAMP enabling platform is a portable scanning fluorescence quantitative analysis platform for near patient testing that enables rapid and robust quantitative results. The platform includes easy software upgrades, data management capabilities and unique interface options. The Reader features a small footprint and ease of use for moderate throughput settings. The RAMP 200 Reader features the multiport capability to run up to 12 tests per hour on one module and up to 36 tests per hour, using three modules. This allows tests to be run on multiple patients simultaneously or multiple assays to be run for one patient.
"Our new agreement with Response Biomedical is very exciting. LABSCO is in a strong strategic position to reach out to hospitals of under 150 beds, regional reference labs, and physician labs on behalf of our important new partner," says Hank Struik, chairman and CEO, LABSCO. "With our team of laboratory experts and specialists, we look forward to advancing the representation of Response Biomedical"s cardiac markers in an ever-changing, competitive market."

[Source: Response Biomedical]