Horizon Lab™ 13.5 from McKesson, San Francisco, has been tested and certified under the Drummond Group's Electronic Health Records Office of the National Coordinator Authorized Certification Body (ONC-ACB) program.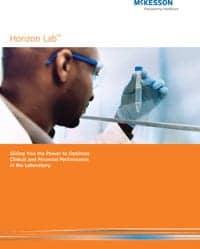 This EHR software is compliant in accordance with the criteria adopted by the Secretary of the Department of Health and Human Services.
It is the first stand-alone laboratory information system to receive EHR Module certification for Meaningful Use Stage 2, according to the company.
"Our focus is to provide software that meets the certification standards, supports interoperability, and assists our customers in promoting improved patient outcomes," says John Yount, McKesson vice president, laboratory and surgery solutions.
Drummond Group's ONC-ACB certification program certifies that EHRs meet the meaningful use criteria for either eligible provider or hospital technology. In turn, health care providers using the EHR systems of certified vendors are qualified to receive federal stimulus monies upon demonstrating meaningful use of the technology–a key component of the federal government's push to improve clinical care delivery through the adoption and effective use of EHRs by US health care providers.
Horizon Lab 13.5, which met the requirements for EHR Module Certification, is an integrated, enterprise-wide Laboratory Information System (LIS) that works for all laboratory settings–hospital, reference, hybrid, forensic, and industrial. With its open system architecture, the LIS is fully adaptable to any health care setting, from single to multiple facilities. By automating the entire lab process, including specimen ordering and routing, medical necessity checking, and specimen collection, results reporting and tracking, it assists in increasing productivity so technologists can focus on more important issues, such as addressing critical or questionable values.
Drummond Group Inc is a global software test and certification body.
[Source: McKesson]