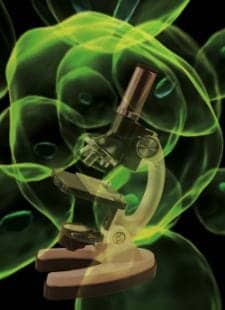 Each year, a decrease in skilled technicians and an increase in budget demands force microbiology labs into a more difficult spot. The American Society of Clinical Pathology reports data from the US Bureau of Labor Statistics, projecting that by 2014 "an additional 81,000 technologists and technicians will be needed to replace retirees and 68,000 to fill new positions." Serious labor demands are rising as new laboratory professionals are not replacing retirees quickly enough, coupled with rising demands of health care as these same people age. These facts have led the device industry to develop equipment intended to streamline the process for microbiology labs and make laboratories leaner on the whole.
"Automation of microbiology is really attractive right now, more than any time in the past," said Norman Sharples, executive vice president of Copan Diagnostics Inc, Murietta, Calif. "Where other disciplines already have a great deal of automation integrated into their labs, this is a relatively new concept for microbiology."
This may be because microbiology requires a significant amount of judgment and results interpretation at frequent intervals, possibly more so than its chemistry and hematology cousins who have already adopted automation technology nearly to commonplace. Streaking and plating samples can take many long hours, and for a skilled employee these hours are monotonous, tiresome, and often prone to error. Automated advances in the micro lab are aimed at improving the quality of results and reducing turnaround time so physicians can ultimately make patient care decisions faster.
Some of these efforts are resulting in streamlining data-management techniques with software aimed at eliminating redundant data entries and reducing the amount of time spent away from the benchtop. Other equipment, such as an automated incubator, can fully automate cell lysis, nucleic acid extraction, PCR setup, amplification, and detection. However, while many micro labs are focusing a greater amount of attention on testing for the presence of bacteria, most are still performing the more traditional methods of streaking and plating. Further automation, such as the Walk Away Specimen Processor (WASP), eliminates the need for skilled technical staff to perform many tedious tasks altogether.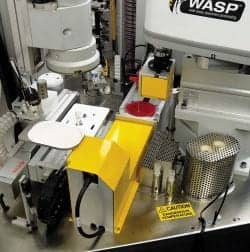 Copan Walk Away Specimen Processor
Streamlined Specimen Processing
The WASP, first introduced in 2008, now has increased capabilities, and further capabilities are planned for the near future. In November 2010, Copan will introduce the first incubator connected to the WASP at the Medica meeting in Düsseldorf, Germany. This means that the WASP is now capable of integrating the new conveyor-run incubator with its planting and streaking, gram stain, and broth inoculation functions.
In the newest feature, the WASP connects to a conveyor bringing any liquid sample directly into an automated incubator. The incubator uses a rotation device to place the plate directly into the incubator without any technician involvement while eliminating the risk of condensation sweating into the culture. Each plate has a bar code and is assigned to a unique location in a sample warehouse such that when a sample is needed, a technician can call up the patient's plate and the robot will immediately deliver it from the sample warehouse to the technician.
"This makes the whole system very traceable," Sharples said. "You can't beat this for lab consistency and reliability." The WASP can process between 3,000 and 5,000 samples in a shift.
Capabilities of the WASP are introduced in a modular fashion, so that laboratories can adapt to automation at their own pace. For example, the WASP has capabilities to plant and streak, do gram stains, enrichment broth, and now direct incubation, but each of these steps can be individually implemented. Automated gram stain slide preparation and broth inoculation were introduced in May 2010.
Automation for Molecular Testing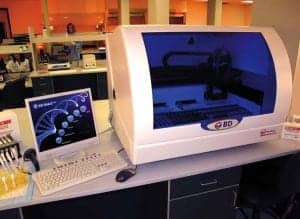 The BD Max System from BD Diagnostics
For labs that are focused on molecular assays, an automated incubator from BD Diagnostics—Diagnostics Systems, Sparks, Md, mechanizes much of the manual processes. Called the BD MAX System, it fully automates molecular diagnostics processes from cell lysis and nucleic acid extraction to PCR setup, amplification, and detection. The BD MAX System has two distinct operating modes: one for performing in vitro diagnostic (IVD) assays in an IVD mode and one as an open system to perform User Defined Protocols. Up to five runs of 24 samples each can be completed in a shift.
"The combination of full automation along with a CLIA moderate complexity rating enables laboratory technicians versus highly trained medical technologists to operate the system," said Steve Clark, senior director of marketing, infectious disease, BD Diagnostics—Diagnostic Systems.
The BD MAX System is now coupled with the BD GBS assay, the first and thus far only FDA-approved fully automated method for in vitro diagnostics of Group B Streptococcus. Tests for MRSA, C. difficile, and others are currently in development.
"A design goal targeted for availability in the middle of next year is for the BD MAX System to support full LIS connectivity and interfacing," Clark said.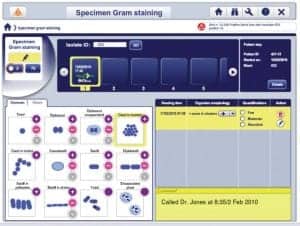 Myla software from bioMérieux
Integrating with Informatics
For data collection, other tools are available that can be fully integrated with laboratory information systems. Browser-based software such as Myla from bioMérieux Inc, Durham, NC, can streamline data collection and management, leading to leaner informatics. With this middleware, technicians are notified of positive results without leaving their benchtop, leading to increased efficiency and faster response time. Myla is designed to complement a laboratory's current LIS, filling information management gaps and adaptable to many work environments.
"Myla can decrease the time to positive results detection," said Douglas Matthews, marketing manager of Myla at bioMérieux. In situations where positive results detection is reduced from more than 1 hour, where the mortality rate is 19%, to less than 1 hour, where the mortality rate is 10%, this reduces patient risk by 47%, Matthews explains. A preliminary release of Myla in June was well-received by the customer base, and a full launch is planned for the fourth quarter of 2010.
In labs that are not staffed 24/7, there is concern that results are treated differently for different shifts, Matthews explains. Myla dashboard provides alerts for instrument issues or positive blood cultures so staff can be alerted remotely. Myla can continuously run results and alert staff for positive results to prompt performance of a gram stain. Accessible from anywhere on the network, the system allows labs to connect through multiple instruments, streamlining the information management system. Myla is supported by VLINK™, an online support system with direct connectivity to engineers at bioMérieux.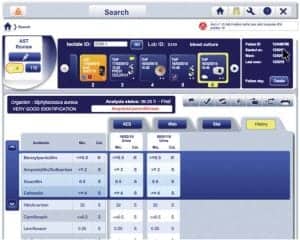 Browser-based Myla software
"The major barrier we have found to implementing Myla is the transition from point-to-point to browser-based systems, and we are working on ways to help labs ease this transition," Matthews says.
Sharples echoes this sentiment, saying, "We have a big vision for microbiology, but we know we have to do it in baby steps. Labs will have to face automation because it's really efficient. Conservative people need to be introduced to this in a step-by-step process, modular and logical, to make sure the investment is sound with good longevity, and that's the core of the whole operation."
To be clear, the automation of microbiology laboratories is not intended to replace skilled technologists but rather to assist staff in performing more monotonous tasks so skills and judgment can be used in areas where it is needed. For example, in labs that have implemented WASP, technicians have been retrained to do PCR where before their time was spent exclusively planting and streaking. At this rate, lab workload can increase while samples are processed faster and results seen sooner and with increased accuracy.
In addition to increased efficiency and reduction in patient risk, there may be a bottom-line health care benefit to be seen from automation in the microbiology lab. According to a study this year in the Journal of the American College of Radiology (April 2010), the cost of a hospital stay is more than $2,000 per day. If automated machines can increase accuracy and speed of results, it will have the added benefit of reducing patient length of stay while increasing overall productivity of the microbiology lab.

To track developments in microbiology, bookmark this website.
Early resistance to automation in the microbiology lab was reasonably voiced with concerns of accuracy and reliability. As new products did become available to successfully perform an increasing array of tasks, a stigma developed that these tools would be confined to large-scale or academic institutions. The shifting landscape, however, has led to the understanding that these tools can in fact be adopted in different scales and customized to fit nearly any laboratory need.
Implementing automated equipment in the micro lab has never been easier. The robotics, software, and device industries are listening to the demands of microbiology laboratories and responding with improved equipment and more comprehensive technical service.
---
Sara Ball is a contributing writer for CLP.