Interop 6.1
Voice recognition prototype
Royal Philips Electronics, the Netherlands, and Health Language Inc, have teamed to produce a prototype solution to automating conversion of free text into consistent medical terminology with the help of speech recognition. Interop 6.1 extracts findings, diagnoses, drugs, allergies, and other relevant information from dictated reports then formats the information for upload to an electronic medical record (EMR). The solution generates codes that support the classification of medical conditions and the structuring of clinical data, such as the World Health Organization's International Classification of Diseases codes and the Systematized Nomenclature of Medicine codes. Interop 6.1 also identifies medical terms from the history of present illnesses to be indexed in the EMR. The indexed terms can be used for statistical evaluation, thus helping to improve hospital procedures related to patient safety, medication, and continuity of care.
Royal Philips Electronics
(888) 773-2550; www.philips.com/newscenter
---
Polyethylene Tubing
Nontoxic multipurpose

Now available from NewAge Industries, Southhampton, Pa, are two types of polyethylene tubing: linear low-density formula and a style co-extruded with ethylene vinyl acetate (EVA). While both are made from nontoxic ingredients conforming to FDA standards, they offer different performance characteristics. The co-extruded version—polyethylene-lined EVA—performs much like linear, low-density polyethylene tubing and offers additional features. Its ingredients conform to USP Class VI standards, and it provides greater flexibility over linear low density because of the bonded EVA outer layer. Polyethylene-lined EVA may be substituted for PTFE fluoropolymer tubing in applications involving working temperatures below 100°F, which can result in a cost savings of 50% or more.
NewAge Industries Inc
(800) 506-3924; www.newageindustries.com
---
Equipment Web Site
Brand name pipettes, meters, mixers, and more

A new Web site that contains thousands of high-precision brand name instruments, accessories, and supplies for a wide variety of laboratory applications is being introduced by Mass and Measurement of Canton, Mass. Massandmeasurement.com is an online laboratory equipment store featuring thousands of brand name instruments, accessories, and supplies including Acorn and Oakton portable pH meters, Oakton benchtop pH meters, Vortex-Genie Mixers, and a full range of manual, electronic, and multiple pipettes. A handy conversion calculator and downloadable master catalog are provided. Developed by a team with over 100 years of experience, the Web site has selected all of its analytical balances, laboratory weights and weight sets, pipettes, pH meters, vortex mixers, and other metrological tools and accessories to meet the most demanding professional standards.
Massandmeasurement.com
(800) 320-3493; www.massandmeasurement.com
---
AdvantaPure's Brochure
Gives overview of company's offering of products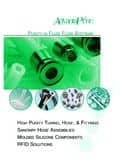 AdvantaPure, Southampton, Pa, has recently updated its products and services brochure, featuring a comprehensive look at the company's product line of high-purity tubing, hoses, fittings, assemblies, molded components, and RFID solutions. Designed for industries such as pharmaceutical, biotech, biomedical, food and beverage, cosmetics, chemical, and other clean-application uses, many of the products meet standards set by organizations such as USP, FDA, ISO, 3-A, and European Pharmacopoeia. The up-to-date brochure illustrates tubing and hose selections by material (silicone, PTFE, FEP, EPDM) and explains each style, such as braid reinforced, wire reinforced, or rubber covered. Stocked sizes are also listed. AdvantaPure's RFID solutions include the Hose Track Lifecycle Analysis System and the company's newest product, GammaTag. The brochure gives a brief explanation of the benefits of using such a system, as well as the advantages of GammaTag for single-use process systems.
AdvantaPure
(888) 755-4370; www.advantapure.com
---
Fumehood Catalog
Traditional and contemporary-styled casework

Duralab Corp, Parlin, NJ, has released its new Catalog of Laboratory Casework and Fumehoods. With over 40 years of experience in the laboratory furniture manufacturing business, Duralab offers both traditional and contemporary-styled casework. Duralab has equipped thousands of laboratory facilities in the industrial, pharmaceutical, medical, and educational research marketplace. The Duralab engineering department is staffed to provide assistance in project planning, design, and cost estimating. Engineering drawings for approval can be provided prior to fabrication of the furniture. A factory-trained labor force is available for non-mechanical installation.
Duralab Corp
(888) 805-1740; www.DuralabCorp.com
---
Super Sani-Cloth
Kills microorganisms in 2 minutes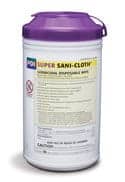 PDI, the healthcare division of Nice-Pak Products Inc, Orangeburg, NY, recently received EPA acceptance to reduce the overall contact time on its Super Sani-Cloth Germicidal Disposable Wipe from 5 to 2 minutes. In addition to killing 18 microorganisms including MRSA and salmonella, the wipes now kill rotavirus, human coronavirus, ESBL-producing E. coli, and burkholderia cepacia. The wipe contains 55% alcohol and kills TB and RSV in 1 minute; HBV, HCV, HIV-1, MRSA, and VRE in 2 minutes; and has been tested effective against a total of 22 microorganisms. It is available in large (6 inches x 6.75 inches) and extra-large (8 inches x 14 inches) wipe sizes, and comes in 160-count and 65-count canisters with deep-well lids. The large 50-count packets and extra-large individual packets fit into the Sani-Bracket, a special wall and mobile equipment mounting system.
PDI
(800) 444-6725; www.pdipdi.com