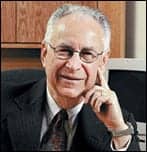 Robert W. Ban, PhD
From modest beginnings more than 30 years ago, Redondo Beach, Calif-based Quantimetrix Corp has evolved into an $8 million company that produces a wide range of clinical control products. The company pioneered the use of liquid stable controls. CLP recently spoke with Robert W. Ban, PhD, president of Quantimetrix, about the company's urinalysis control products.
Q: What challenges are clinical labs facing today in the market of urinalysis controls?
A: They require accurate, dependable, and convenient products.
Q: Have aspects—such as technological developments or increased competition—resulted in a greater level of specialization in the marketplace?
A: The demand for a greater measurement of analyte testing is continuing to increase. Differing and new techniques are continually stimulating the need for analyte testing.
Q: How does the new addition of creatinine and microalbumin improve The Dipper and The Dropper urine dipstick controls, The Dropper Plus point-of-care urine dipstick control, and the DipandSpin combination urine dipstick and microscopics control?
A: They provide greater awareness of kidney malfunction or failure. Screening and monitoring of microalbumin in urine is an important test for Type I and Type II diabetes. The ratio of microalbumin to creatinine in a random urine specimen corrects for errors associated with 24-hour urine collection.
Q: Can you elaborate on how the improved tests have impacted your company and the marketplace?
A: The availability of liquid stable controls offers freedom from reconstitution errors inherent with lyophilized products, and increased room-temperature stability decreases cost and waste.
Q: Has the 1-month room-temperature stability of The Dropper Plus, which is useful for sites without refrigeration, helped the product play a role in any recent natural disasters?
A: Yes, it has.
Q: Could you describe a memorable instance or two?
A: A laboratory had a momentary power outage. Room-temperature stability prolonged the product's performance.
Q: Could you tell us about key industry trends in the urinalysis controls marketplace and how your company is adapting to them?
A: We are providing a greater variety of testing products and an increased number of analytes: vitamins, enzymes, drugs, hormones, and special metabolites.
Q: Tell me about the evolution of the urinalysis product lines, and how your company stands out from others in the industry.
A: Quantimetrix is the pioneer of liquid, stable, urinalysis testing, and continuously is expanding its menu.
Q: Tell us about new products on the horizon and what need they will meet.
A: Other product additions are on the horizon that cover new diagnostic measurements. These controls will cover the ever-increasing development of new biochemical markers.
Q: What specific aspects of increased demand have spurred your company to increase its offerings?
A: New analytes, such as BNP and proBNP, are examples of new important cardiac markers that will have an impact on clinical diagnostic testing.
Q: Will the need for more testing products and analytes continue to grow?
A: The need for more testing diagnostic controls will continue to expand, as more knowledge will grow about the human genome.
Q: How does the increase in your offerings affect lab operations?
A: Clinical laboratories using liquid, stable clinical controls will continue to support the clinical laboratory's menu offering to physicians abilities to diagnose clinical conditions more accurately and effectively.
Q: Tell us about your quality control program.
A: Quantrol, the quality control program, is a database for urinalysis controls such as The Dipper, The Dropper, The Dropper Plus, DipandSpin, and QuanTscopics urinalysis controls. This program meets CLIA regulations for documenting laboratory control performance. An interlaboratory comparison report is provided at no charge. This report is matched to the color changes on reagent test strips for easy interpretation. The Quantrol urinalysis quality control program can also be used to report QC results from confirmatory tests, hCG (pregnancy) tests, specific gravity by refractometry, and microscopic evaluation.
Q: What challenges has the company faced in the past 3 years, and how have you dealt with them?
A: Increased regulatory activity by the FDA had been a challenge.
Q: In what way?
A: Increasing validation procedures before the product release.
Q: Has the FDA's increased activity caused a logjam in product development?
A: It has resulted in longer development times but has not resulted in a logjam.
Q: If so, is it an industrywide impact?
A: Increased regulations are an industrywide impact.
Q: Do you still have a hand in product development?
A: I still work on development every day.
Q: What kinds of challenges keep you engaged in the work?
A: The satisfaction of discovery and development.
Q: What are you most interested in discovering? And developing?
A: Continuing to develop stable, liquid diagnostic controls.
Q: Where will the company be in 5 years?
A: The company will be a dominant force in urinalysis testing.
Q: Can you tell us about TUN?
A: The company has a new technical update notification program called TUN. To be included in this new program, you will need to register for a log-in and password. Registration requires a valid customer number and e-mail address where updates will be sent. All registered participants will receive an e-mail when a technical update is issued, indicating which product is affected.
Q: How has your industry changed since you first conceived Quantimetrix?
A: There has been a dramatic shift from using lyophilized controls to liquid stable diagnostic controls.
Q: How will technological advancements impact the industry in the coming years?
A: The niche market which Quantimetrix operates within is a stable, growing niche.
Q: What steps are you taking to meet the challenges?
A: Quantimetrix is continuously researching and developing useful and better liquid stable diagnostic controls to meet the challenges of the coming years.
Q: What has been your mission with the company?
A: Quantimetrix regards its customers and employees as its most important assets.