MaxiLabel Pro V 3 Labeling Software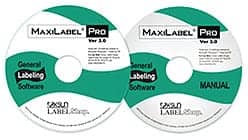 Design and print bar codes and labels
K-Sun Corp, Somerset, Wis, introduces its MaxiLabel® Pro V 3 general labeling software that works with K-Sun LABELShop® PC-compatible printers. The software is used for designing and printing large and small bar code, product/property identification, warehouse, panel, wire/cable, laboratory, and security/safety color-coded labels and banners. Type sizes start at 6 point and expand to 3.75 inches tall with vertical and horizontal printing plus alpha-numeric sequencing. Users can import graphics and logos for custom labels or select from predesigned wizards and from thousands of symbols, and can add on a separate laboratory/medical symbol library.
K-Sun Corp
(800) 622-6312, ext 214
www.ksun.com