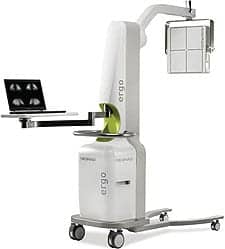 Ergo Portable Imaging System
Features three compound detector motions
Digirad Corp, Poway, Calif, now offers its ergo™ largefield-of-view, general-purpose portable imaging system. The ergo's ergonomic, lightweight, and portable design enables imaging to be performed both in the nuclear department and outside. It features a large 12.25- x 15.5-inch field of view and delivers intrinsic spatial resolution of 3.25 mm, energy resolution of 7.9%, and count rate capabilities of 5 Mcps. The ergo's design features three compound detector motions and a portable base to introduce a level of detector positional flexibility.
Digirad Corp
(800) 947-6134
www.digirad.com
---
RTR-501 Data Loggers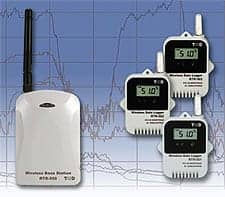 Monitor and download data remotely
TandD Corp, Saratoga Springs, NY, introduces the new RTR-500 data logging system, which provides the ability to monitor and download data without the need to physically retrieve the loggers. The RTR-500 is a wireless base station that connects to a PC through a USB port. This unit can function as a base station or as a repeater to expand the range of wireless communications in increments of about 500 feet per unit. Warning notifications are available from the remote locations via e-mail when parameters are out of norm. Other data loggers are built to withstand harsh environments. The RTR-501 can be used indoors or outdoors and has an internal sensor with a temperature range of -40°C to +80°C.
TandD Corp
(518) 669-9227
www.tandd.com