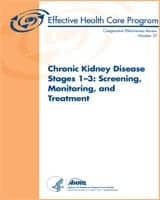 A new AHRQ research review found no or limited evidence that screening, monitoring, and treating adults with early-stage chronic kidney disease was beneficial to patients.
The condition affects more than 44% of US adults over the age of 70.
The review examined screening, monitoring, and treatment of adults in stage 1, 2 or 3 of the five stages of chronic kidney disease.
Select to read Chronic Kidney Disease Stages 1-3: Screening, Monitoring, and Treatment by clicking here.
[Source: AHRQ]