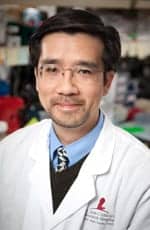 Wing Leung, MD, PhD
Insight Genetics, Nashville, Tenn, has entered into an exclusive, worldwide licensing agreement with St. Jude Children's Research Hospital, Memphis, Tenn, for a genetic test known as the KIR/KIR-Ligand Assay, which helps to predict the success of bone marrow transplants by identifying the optimal bone marrow donor subtype.
Use of this assay has been shown to prevent the return of cancer in transplant recipients and reduce risk of death following bone marrow transplantation by about 60%.
Insight Genetics will optimize the KIR/KIR-Ligand Assay for rapid, high-capacity use and make it broadly available to physicians and their patients as well as donor registries.
The Health Resources and Services Administration estimates that each year more than 18,000 Americans are diagnosed with life-threatening illnesses for which bone marrow transplants are the best treatment option. There are millions of individuals registered as potential bone marrow donors, but effectively matching a patient in need of a transplant with the right donors is a difficult process.
"When successful, bone marrow transplants can transform patients' lives," says Wing Leung, MD, PhD, chair of St. Jude's Department of Bone Marrow Transplantation and Cellular Therapy. "This is why it's critical we do everything we can to ensure the best match between donor and recipient. The KIR/KIR-Ligand Assay has great potential in helping to identify the best transplant donors and improve outcomes for patients worldwide."
According to the World Health Organization, when donors and recipients are optimally matched, bone marrow transplants can cure more than 90% of patients with blood and lymph cancers. This assay has the potential to make the screening process more efficient and effective, greatly increasing the volume and quality of the donor-patient match. It is estimated that the test could assist in improving donor matches and increasing life expectancy for as many as 7,500 bone marrow transplant patients in the United States annually.
The KIR/KIR-Ligand test was developed by Dr. Leung, Dr. Rafijul Bari and colleagues at St. Jude as part of their research to determine the impact of variations in the KIR2DL1 gene.
A study conducted by Bari, Leung and colleagues that was featured in the September 16 online version of the Journal of Clinical Oncology (JCO) showed that patients were much more likely to survive a transplant and significantly less likely to experience disease progression when bone marrow transplants came from donors whose NK cells included the stronger form of KIR2DL1.
Insight Genetics has obtained the licensing rights to KIR2DL1 coding (cDNA) sequences and the KIR/KIR-Ligand Assay.The company initially will focus on refining the assay for clinical use, with plans to make it available to clinicians and researchers as a lab-developed test in early 2014. The company will be working to deepen relationships with bone marrow donor registry programs and transplant centers to enhance typing and donor matching for each procedure.
[Source: Insight Genetics]