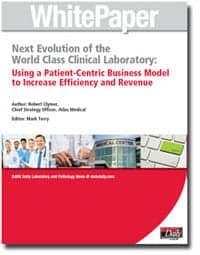 Source: ©2013 Dark Intelligence Group, Inc.Medical labs are facing extraordinary business challenges, driven by changes in market drivers, regulation, and reimbursement.
Those changes include evolving reimbursement models, a growing emphasis on the continuum of care, increased patient interaction, and the increasing demands of interoperability across numerous disparate information technology systems.
Adaptation requires more than the tactical investment of organizational resources needed to address "Meaningful Use," but must involve labs positioning themselves as patient-centric provides of healthcare information and data.
"There are both clinical service reasons and financial imperatives that require every clinical laboratory and anatomic pathology group to deploy effective laboratory informatics capabilities to support patient-centric care," says Robert L. Michel, editor-in-chief, DarkDaily.com and The Dark Report. "The new integrated care delivery models make it essential that clinical lab test data can move seamlessly across the continuum of care."
The Dark Report/Dark Daily are offering lab professionals a free, downloadable, recently published white paper titled "Next Evolution of the World Class Clinical Laboratory: Using a Patient-Centric Business Model to Increase Efficiency and Revenue."
The white paper addresses many topics, including:
The changing landscape for diagnostic providers
The definition of a patient-centric approach to clinical diagnostics
A description of the obstacles a clinical lab can overcome using a patient-centric business model
A detailed work plan on how to become a patient-centric lab
Practical examples of patient-centric benefits are explored, including the use of tools that enable consolidated billing, eligibility checking, and longitudinal reporting, as well as many other benefits.
The author is Robert M. Clymer, chief strategy officer, Atlas Medical, Calabasas, Calif, a division of Atlas Development Corp. Clymer holds a bachelor's and master's degree in operations research and industrial engineering from Cornell, and an MBA from the Cornell Johnson School of Management, where he was a Knight Scholar. He has led Atlas's efforts to provide medical lab solutions since 1995.
[Source: The Dark Report]