<%Response.charset="iso-8859-1"%>
Advertising Supplement
Aesku.Diagnostics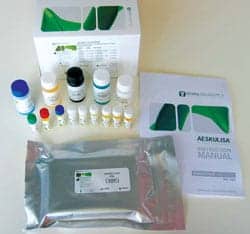 Booth# 3138
Celiac disease—is it just the tip of the iceberg? Screening data from the US and Europe demonstrate that the prevalence of nonrecognized celiac disease is significantly higher than the cases already diagnosed today. The numerous late consequences of untreated celiac disease require a test allowing reliable and sensitive detection or even an early prognosis.
AESKULiSA® tTg ELISA kits performed excellent in a recent Multi-Centre Celiac Serology Study undertaken to define the optimal serological screening approach in the assessment of Celiac Disease.
AESKULiSA® Celicheck even placed first as the best dual isotype transglutaminase kit of all assays tested.
The reason is obvious: AESKULiSA® tTg ELISA kits show a unique composition. Human recombinant tissue transglutaminase is cross-linked with gliadin-specific peptides resulting in the creation of neoepitopes of tTg. The tests are highly specific as no cross-reactions with gliadin occur. Thus, the AESKULISA tests are the only available tTg test to mimic the physiologically relevant tTg enzyme complex, offering impressive benefits.
With FDA approval for the AESKULiSA® tTg IgA and tTg IgG tests, a new generation of tTg tests for the diagnosis of celiac disease is now at hand for in vitro diagnostic use in the US. AESKULiSA® CeliCheck will follow soon.
AESKU.DIAGNOSTICS offers a unique product portfolio: more than 100 different ELISA assays for a fast, economical, and reliable diagnosis of autoimmune diseases and for a broad range of research applications.
+49 6734 9627-0
www.aesku.com
---
Antek HealthWare LLC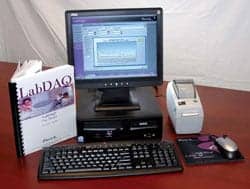 Booth# 3433
Installed in more than 2,000 labs, LabDAQ® Laboratory Information System can be found in virtually every clinical laboratory environment, and can easily meet the needs of hospital, clinic, physicians'-office and reference laboratories. It is an extremely flexible system, with the ability to grow and change with your laboratory. LabDAQ is designed to help you effectively manage your laboratory's data and resources. Key features include a comprehensive quality control module, medical necessity, security tools, and connectivity to other systems or reference laboratories. LabDAQ also offers consolidated and cumulative patient reports, quality assurance functions, and sophisticated management tools.
LabDAQ—the most trusted name in the POL market—now offers an LIS solution for both large clinics and community hospitals, LabDAQ+. LabDAQ+ was designed with powerful tools that will redefine the administration of the laboratory and will show laboratory information in a new light. These innovative functions include:
(1) DAQdash, which shows important laboratory information real time; (2) DAQ·IT, an early warning system which keeps network administrators and IT personnel informed of system status and functions, and (3) DAQvantage, which provides access to lab mail, task lists, and a scheduler.
(800) 359-0911 ext. 3
www.AntekHealthWare.com
---
The Binding Site Inc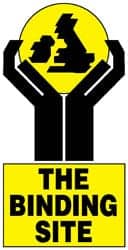 Booth# 1717
The Binding Site is an international manufacturing company specializing in the research, development, and production of advanced, innovative, immunodiagnostic assay kits and reagents.
Two products we are proud to feature are Freelite™ and FARRZYME™.
Use Freelite, the FDA-approved assays for the automated quantitation of Î and Ï free light chains.
Freelite has been recommended by the Mayo Clinic to replace urine studies when screening for monoclonal gammopathies if used in combination with serum immunofixation and serum protein electrophoresis.
Superior sensitivity and <20min per assay!
Detects 99% of multiple myeloma cases.
For more information, please visit www.freelite.co.uk
FARRZYME™ is the first double-stranded deoxyribonucleic acid (dsDNA) assay for in vitro diagnostic use cleared by the FDA for the quantitative measurement of specific high avidity IgG autoantibodies against dsDNA. Studies show that high avidity IgG specific anti-dsDNA autoantibodies have a high correlation to Systemic Lupus Erythematosus (SLE) and lupus nephritis, as well as a relationship with disease progression. FARRZYME is nonisotopic, fully automatable, and available in a convenient break-apart well format. Other benefits include:
Automation protocol for the DSX
Convenient ELISA format
Complementary to The Binding Site's range of ANA test kits
For more information, please visit www.bindingsite.com/farrzyme-51.asp.
---
Cellestis Inc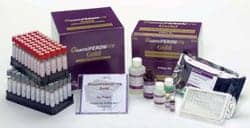 Booth# 2248, 2250
QuantiFERON®-TB Gold: One blood test, one clear answer for tuberculosis
QuantiFERON®-TB Gold (QFT) is the revolutionary new blood test for detection of tuberculosis infection. FDA approved and CDC recommended, QFT provides a more efficient and cost-effective approach for hospital and public health TB-control programs. Recognized by TB clinicians as a superior alternative to the 100-year-old tuberculin skin test, QFT specifically detects TB-infected individuals and is not confounded by BCG vaccination or other mycobacteria. QFT also offers improved testing compliance since results are obtained with a single blood draw, compared to the tuberculin skin test which requires at least two clinic visits to perform. The ability of QFT to specifically detect TB infected individuals using a single blood sample is providing significant economic and medical benefits to US. and international TB control programs that have already adopted QFT.
(800) 519-4627
www.cellestis.com
---
Centerchem Inc /BioMedical Diagnostics Inc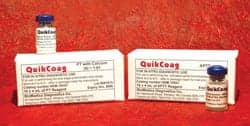 Booth# 1140
Centerchem offers reagents and test systems for routine and specialty coagulation diagnostics, as well as specialty biochemicals.
QuikCoag™ Reagents and Controls, manufactured by BioMedica Diagnostics and available only from Centerchem, are used in the routine coagulation laboratory. QuikCoag™ PT-HS has an ISI of 1.0-1.4 and is used for high sensitivity prothrombin times. QuikCoag™ aPTT and QuikCoag™ CaCl2 are used for determining activated partial thromboplastin time. QuikCoag™ Fibrinogen, for quantitative fibrinogen tests, is a new addition to the product line. In addition, we offer QuikCoag™ Controls for quality assurance.
Pefakit® test kits include assays for: APC resistance caused by the Factor V Leiden mutation; Prothrombinase induced Clotting Time (PiCT®), a monitor for the anticoagulant activity of heparins and heparinoids; quantitative determination of factor XIIIa; Thrombin Activatable Fibrinolysis Inhibitor (TAFI); Reptilase®, for heparin-insensitive clotting times; and in-TDT® for kinetic determination of thrombin generation.
Our specialty biochemicals include: Pefabloc® SC and other serine protease inhibitors; natural inhibitors like Aprotinin and r-Hirudin; the Pefachrome® and Pefafluor™ series of peptide substrates; proteins from snake venom, including Batroxobin, Botrocetin®, Convulxin and Protac® and PRIONEX®, The BSA Alternative™.
(203) 822-9800
www.centerchem.com
---
Diazyme Laboratories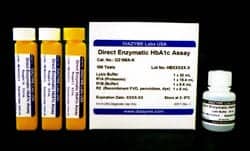 Booth# 4219
Diazyme Laboratories has developed a unique liquid stable two-part Direct Enzymatic HbA1c assay™, which is available in instrument-specific packaging for a wide variety of clinical chemistry analyzers. This innovative method provides more consistently reliable results than Immunoassay or HPLC assays by eliminating interference from chemical and genetic hemoglobin variants. Direct Enzymatic HbA1c requires only a single analyzer channel, compared to immunoassays that can require multiple channels. In addition, the cuvette contamination that can occur with latex beads used in immunoassay methods is eliminated, further reducing instrument maintenance time and expense. Highly accurate and precise, Direct Enzymatic HbA1c is NGSP certified traceable to the Diabetes Control and Complications Trial (DCCT) reference method.
Diazyme Laboratories focus is on the development and marketing of innovative enzyme-based diagnostic reagents for use on automated chemistry analyzers. Diazyme's products include new enzymatic Homocysteine as well as diagnostic blood tests for cancer markers, liver disease, cardiac markers, diabetes and electrolytes.
(888) 342-9963 (US Only)
www.diazyme.com
---
DS Diagnostics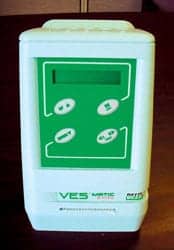 Booth# 4713
DS Diagnostics is the official full-service and product supply company for the entire Ves-matic ESR Analyzer product line. This includes the Mini-ves and the Ves matic 20 as well as DIESSE's newest analyzer, the 10-position,random-access Vesmatic Easy—only available in the US through DS Diagnostics. We also carry the full line of Vacu tec and Ves tec plastic tubes, and offer service contracts on all existing DIESSE ESR analyzers.
Visit us at DIESSE'S booth #4713.
(800) 582-1937
www.dsdiagnostics.net
---
Energy Beam Sciences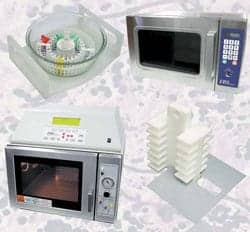 Booth# 5206
EBS – serving healthcare and scientific professionals for over 40 years.
The pioneer in laboratory microwaves, protocols, microwave-optimized containers, racks, accessories, and reagents. TEM and SEM parts, accessories, and nano-biometric software. Energy Beam Sciences: constant dedication to providing innovative, high-value, high-quality products for the most demanding applications.
(800) 992-9037 x 341
www.ebsciences.com
---
Inova Diagnostics Inc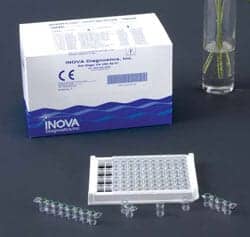 Booth# 3410
The QUANTA Lite™ CCP3.1 IgG/IgA (cyclic citrullinated peptide) ELISA is an improved version of CCP3, the third-generation assay, featuring a blended dual- specificity IgG/IgA conjugate. The exact sequence of CCP3.1 is proprietary and patent pending. Antibodies from patients with rheumatoid arthritis (RA) react very specifically with CCP on the solid phase. The use of a blended anti-IgG and IgA affinity purified conjugate allows the detection of antibodies in a small but significant cohort of RA patients that do not react with IgG alone. The QUANTA Lite™ CCP3.1 ELISA offers up to a 9% increase in sensitivity for the detection of early RA patients over that seen with CCP2. In addition, the specificity of CCP3.1 is increased over that observed in earlier CCP2 assays.
(800) 545-9495
www.inovadx.com
---
Inverness Medical Professional Diagnostics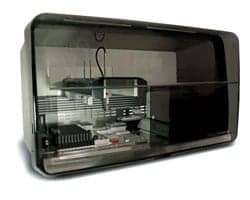 Booth# 3811
The AIMS (Automated Immunoassay Multiplexing System) is a fully automated platform that allows the processing of AtheNA Multi-Lyte® assays and Wampole® ELISA II assays. The system is the first fully integrated and open system that allows the processing of microplate-based assays utilizing the proprietary Luminex® x-MAP®-based technology as well as traditional ELISA-based assays. Utilization of the AIMS system allows laboratories to maximize their efficiency by offering complete walk-away performance. The AIMS system is the latest addition to the AtheNA Multi-Lyte® product line, which offers the largest FDA-cleared multiplexing menu.
(800) 257-9525
www.invernessmedicalpd.com
---
Iris Sample Processing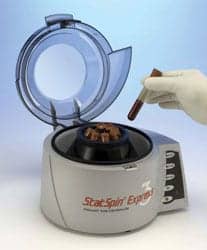 Booth# 4323
The need for faster turnaround times and greater throughput can now be met with the new StatSpin Express 3, Primary Tube Centrifuge. The fixed-angle rotor holds up to 8 blood tubes from 1.5 to 10.0 mL. The StatSpin Express 3 can be placed next to any laboratory analyzer for "STAT" chemistry, cardiac, or coagulation testing. Plasma or serum is obtained in as little as 2 minutes. It's simple to use. Just select the time and press "start." The small footprint frees up bench space and can be used right at the workstation. Tube inserts are available to accommodate a wide range of tube sizes. The powerful brushless motor is maintenance-free and is backed with a 2-year warranty.
(800) 782-8774
www.proiris.com
---
Shenzhen Mindray Bio-Medical Electronics Co Ltd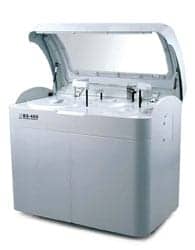 Booth# 4835
Chemistry Analyzer
BS-400 Auto Chemistry Analyzer (Available in first half of 2007!)
400 tests per hour, up to 640 tests per hour with ISE
Up to77 on-board chemistries & 4 ions
Onboard capacity of 90 sample positions
Automatic probe cleaning, liquid level detection & collision protection
8-step auto washing system
12 wavelengths: 340-800nm
+86-755-26582888
www.mindray.com
---
Nova Biomedical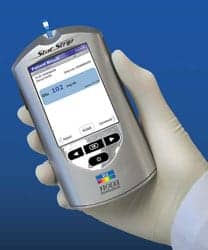 Booth# 2633
Nova manufactures Stat Profile® pHOx® and Critical Care Xpress blood gas, electrolyte, and chemistry analyzers for use in critical care, point-of-care, and stat testing. Stat Profile Critical Care Xpress analyzers measure up to 20 tests including blood gases, Na, K, Cl, iCa, iMg, Hb, Hct, glucose, lactate, creatinine, BUN, tBil, and co-oximetry. They feature fully automated quality control, tankless calibration, and the smallest footprint of comparable instruments.
Nova StatStrip™ Glucose and StatSensor™ Creatinine test strips feature new Multi-Well™ technology that creates a new class of analytical performance comparable to central laboratory testing.
StatStrip Glucose measures and eliminates interferences from hematocrit, maltose, oxygen, acetaminophen, ascorbic acid, and uric acid. StatStrip's small 1.2 microliter sample volume allows easy sample acquisition and virtually painless capillary sampling. StatStrip also eliminates calibration codes. Fast, 6-second test results and simple color touch screen operation make bedside glucose testing fast and easy. Recent FDA neonatal clearance extends its glucose measurement range to 10 to 600 mg/dL.
StatSensor Creatinine measures whole blood creatinine and calculates estimated glomerular filtration rate (eGFR) by MDRD or Cockroft-Gault equations. It offers easy, virtually painless capillary blood sampling, a wide measurement range from 0.03 to 12 mg/dL, and 30-second test results.
800-458-5813
www.novabiomedical.com
---
Olympus America Inc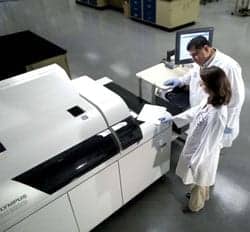 Booth# 1117
Olympus serves health care and commercial laboratory markets with integrated product solutions and financial, educational, and consulting services that help customers to efficiently, reliably, and more easily achieve exceptional results. Olympus develops breakthrough technologies with revolutionary product design and functionality for the consumer and professional photography markets, and also is the leader in gastrointestinal endoscopy and clinical and educational microscopes. For more information, visit www.olym pusamerica.com., call 800-223-0125 or visit us at Booth 1117.
(800) 223-0125
www.olympusamerica.com
---
Quantimetrix Corp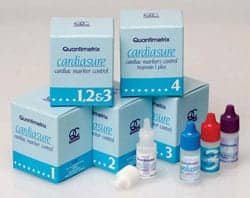 Booth# 2123
Cardiasure™ – Cardiac Markers Control
Cardiasure Cardiac Markers™ controls are intended as a means of monitoring serum cardiac analyte testing methods. A new feature is the addition of NT proBNP. It is compatible with most major chemistry analyzers including AIA®, AxSYM®, ACS:180®, Access®, Dimension®, Elecsys®, Stratus®, Synchron®, and TOSOH A/A. This product has a liquid, human serum matrix, comes with full 3-year frozen stability (from date of manufacture) and can be refrozen 2 times. It is available at three levels, with 90- day unopened and 60-day open-vial stability when stored at 2 to 8 C, and is packaged in a dropper-tip plastic bottle for ease of use. A comparative quality control program, Quantrol™, available for Quantimetrix products provides labs with free monthly reports to monitor test performance and trend analysis.
+1.310.536.0006
www.4qc.com
---
Randox Laboratories Ltd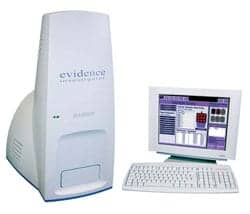 Booth# 803
Biochip Array Technology for Multiplex Testing
Randox Laboratories bring innovative Biochip Array Technology within the reach of routine labs and researchers. The Evidence Investigator is a compact biochip reader that affords exceptional versatility. The biochip is a 9-mm solid platform with antibodies and antigens attached at up to 25 separate sites in a panel of related tests. A different test is performed at each site in parallel. Through multiplexing the biochip simultaneously provides multiple results from a single sample.
Biochips encompass the areas of cytokines, adhesion molecules, thyroid, fertility and tumor testing. Screening arrays are available for drug residues and drugs of abuse. The cardiac array uses traditional and novel cardiac markers for the early detection of heart attacks, allowing earlier treatment and improving prognosis. RanplexCRC is a DNA assay for colorectal cancer, the most common cancer in nonsmokers. It offers a noninvasive screening method for colorectal cancer with results available in less than 48 hours. Randox currently has 97 biochip tests and hopes to increase this to 165 by the end of 2007.
Randox is the sixth largest manufacturer of clinical chemistry reagents, producing 5% of the world's clinical chemistry products. The Evidence Investigator is the latest development from Randox's $175 million biochip R&D program. Randox has just received the 2007 Frost & Sullivan European Technology Innovation of the Year Award for lab-on-chip based medical diagnostics.
866 4 RANDOX
www.randox.com
---
SA Scientific Ltd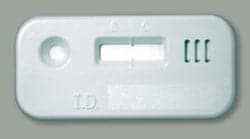 Booth# 402
SA Scientific Ltd was established in 1991, and it is a FDA- and USDA-registered and ISO 9001-2000-certified facility that has been manufacturing reliable diagnostic tests (immunochromatographic assays based on colloidal gold technology) for clinical laboratories in the United States and around the world. These tests are offered in two different formats: cassette-type and dipstick-type tests. Portfolio of tests manufactured includes hCG, Adenovirus, Rotavirus, RSV, Influenza A&B, and Strep A. Many products are also manufactured on an OEM basis for major companies. SA Scientific has obtained CLIA waiver on RSV, Influenza A&B, and Strep A tests. The company also focuses on research, design, and development, and has the capability to manufacture custom assays for various analytes. The complete line of SA Scientific brand products is available through any of its distributors or directly from its facility in San Antonio.
(800) 275-2326
www.sascientific.com
---
SAFC Supply Solutions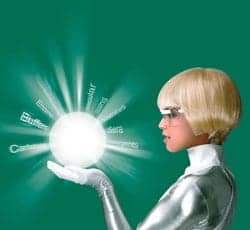 Booth# 444–446
SAFC Supply Solutions is a Total Supply Chain partner to the IVD and contract OEM manufacturing industry. The business provides a customized suite of products and services aimed at alleviating the issues associated with compliance, custom analytical testing, quality assurance, speciality packaging, and on-time delivery. SAFC produces more than 45,000 raw materials and offers cGMP, OEM, and contract manufacturing capabilities.
Products and Services
Raw materials for Diagnostics manufacturing, including biocides and preservatives, cell culture materials, buffers, inorganics, molecular biology products, organics, proteins and enzymes, stains, and dyes, plus speciality biochemicals such as amino acids, peptides, and detergents. Our cGMP contract and OEM manufacturing facilities are ISO 13485 certified and 21 CFR 820 compliant for medical device manufacturing.
(800) 244-1173
www.safcsupplysolutions.com
---
STI (Separation Technology Inc)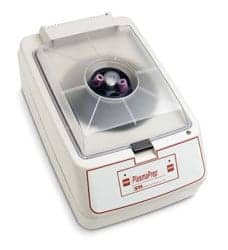 Booth# 4553
STI's centrifuges provide fast, accurate results for reduced turnaround-time. The PlasmaPrep™ centrifuge's 3-minute plasma/serum separation is perfect for coagulation studies. Its heavy-duty, Swiss-made motor provides quiet, long-life operation. PlasmaPrep is easy to use and comes with an automatic out-of-balance shutdown feature. HemataSTAT® is the best microhematocrit centrifuge on the market. It spins for just 1 quiet minute. It has a digital, built-in tube reader and LCD display of user prompts and hematocrit results. Perform quality-control tests on the HemataSTAT and other microhematocrit centrifuges with HemataCHEK® hematocrit control. The product comes in low, normal, and high levels; requires no refrigeration; and has a 2-year shelf life. ClearCrit® safety-enhanced hematocrit tubes and HemataSEAL® tube sealant complete the system. The Micro12™ centrifuge provides for small-volume separations. The speed range is perfect for a variety of applications including quick spin-downs, cell and bacteria separations, micro filtrations, and blood and urine separations. The Creamatocrit Plus™ delivers accurate breastmilk fat concentration and caloric density results in just 3 minutes. It is designed for use in any clinical or research setting, especially in the NICU where accurate, real-time results impact important nutrition management decisions for vulnerable, premature infants.
(800) 777-6668
www.separationtechnology.com
---
Tosoh Bioscience Inc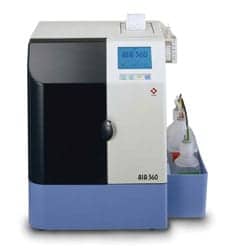 Booth# 4601
AIA®-360
The AIA-360 is a sophisticated system that fits in any lab environment. This analyzer has a footprint of 16 x 16 x 21 inches and weighs 61 pounds. Its compact design is ideal for physician office laboratories, work stations for small hospitals, STAT testing, as well as a dedicated system for specialty testing. Features include: random access, bar-coded testing and user-friendly operation. With a throughput of 36 tests per hour, the AIA-360 generates all results in approximately 18 minutes, including those for TSH and 'HCG. The cost effective system utilizes the same 10-minute incubation, unit dose test cup reagents as Tosoh's AIA-600 II and AIA-1800, making it a perfect back-up to the larger Tosoh analyzers.
(800) 248-6764
www.tosohbioscience.us
---
Tosoh Bioscience Inc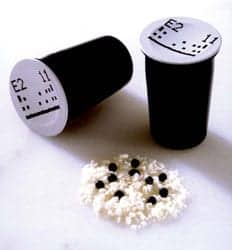 Booth# 4601
Tosoh AIA®-PACK Unit Dose Test Cup Reagents
All Tosoh AIA® systems utilize the same AIA-PACK test cup format, ensuring consistent performance every time. With interchangeable reagents on all Tosoh systems, inventory management is easy and problem free. Transition from one system to another is seamless, ensuring consistent results and efficient, economical operation for the laboratory. Tosoh's AIA-PACK test cups are single, unitized cups that utilize a dry reagent format that requires no premixing, no premeasuring, no onboard refrigeration, and no waste. The dry reagent format provides calibration stability of up to 90 days for most assays. AIA-PACK test cups and trays are labeled with code and lot number for automated scheduling and inventory management. The ST AIA-PACK reagents provide a faster turnaround time due to a 10-minute incubation period.
(800) 248-6764
www.tosohbioscience.us
---
Trinity Biotech Hemostasis Division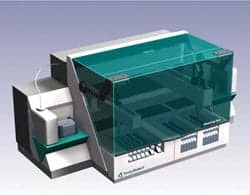 Booth# 4625
Trinity Biotech announces a new generation in coagulation testing with the introduction of the AMAX Destiny MAX™, a high-volume coagulation analyzer. Ideal for large-volume laboratories, the Destiny MAX performs mechanical, optical, chromogenic, and immunoturbidimetric assays while using only two consumables. The high-throughput system offers 350 tests per hour, cap piercing, and the ability to link to laboratory automated systems. The Destiny MAX has integrated many of the features of the MDA analyzer, including sample verification using Trinity's blue dye technology. Other features include volume reagent and patient sample usage along with a calibration system for coagulation that is unique to Trinity Biotech.
(800) 325-3424 (Coag option)
e-mail
---
Vista Technology Inc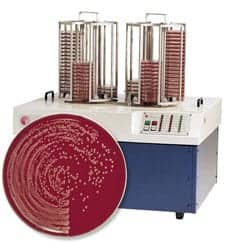 Booth# 4351
ISOPLATER 180 FEATURES AND BENEFITS
Features
Automated streaking
Standardized streaking
Patented loop design
HEPA-filtered operation
User-friendly
Benefits
Saves labor costs involved with manual streaking of petri plates for both primary cultures and subcultures. Consistent reproducible streaking gives better colonial isolation and reduced specimen handling.
Four equal-sized quadrants with 16 parallel streaks, which eliminates variations seen with manual technique
The "S" shape of the loop is designed to spread the specimen more efficiently, giving a greater number of well-isolated colonies
The streaking area is maintained under negative pressure, and all potentially biohazardous air is HEPA filtered to provide personnel
protection
Minimum training required for operation, cleaning, maintenance, and repair
---
VistaLab Technologies Inc

Booth# 413
We've revolutionized the look and performance of handheld liquid transfer with our ergonomic Ovation BioNatural Pipettes. Ovation has numerous features not found in other pipettes that boost efficiency, complement a unique ergonomic design, and ensure reliable, consistent accuracy and precision, especially at low volume settings. Electronic, multichannel, macro, adjustable and fixed volume models cover liquid handling from 0.2 µL to 10 mL.
(888) 652-6520
www.vistalab.com
---
VWR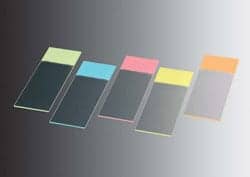 Booth# 2351
VWR Offers a Comprehensive Selection of High-Quality VWR VistaVision™ Microscope Slides
VWR offers a wide selection of top value VWR VistaVision™ Microscope Slides for clinical laboratory applications. VWR VistaVision slides are manufactured from high-quality, German soda-lime glass in accordance with ISO 8037/1 standards for improved image resolution and have smooth edges to promote consistent blood smears. The design and packaging of the slides help reduce waste and product loss associated with "sticking slides." The ready-to-use slides do not require further treatment prior to use.
The slides are available in plain, frosted, and color-coded designs and a variety sizes. Frosted slides feature a 20-mm marking area. Colored slides enable easy identification and have a convenient marking area. A selection of cover glasses is also available.
(800) 932-5000
www.vwr.com
e-mail