Xpert BCR-ABL Monitor Assay for the GeneXpert System
CML genetic marker assay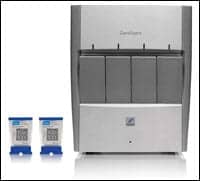 The Xpert BCR-ABL monitor from Cepheid, Sunnyvale, Calif, can be used by hematologist-oncologists and laboratorians as an aid in the monitoring of BCR-ABL, an abnormal genetic marker found in patients with chronic myelogenous leukemia. The quantitative assay delivers an automated solution to low- and high-throughput oncology research labs. The closed-system, nested real-time PCR assay delivers rapid, standardized research test reporting in about 2 hours. The GeneXpert system offers an instrument platform to combine sample preparation with real-time PCR amplification and detection functions for fully integrated and automated nucleic acid analysis. The system purifies, concentrates, detects, and identifies targeted nucleic acid sequences, delivering answers from unprocessed samples in about 2 hours. Other techniques for performing the same complex sample prep, reverse transcription, and PCR procedures involve skilled technicians in centralized molecular labs performing batched manual tasks that can take 2 to 3 days to complete. The assay is available in the United States for research use only and in Europe as a CE IVD Mark product under the European Directive on in vitro diagnostic medical devices.
Cepheid
(888) 838-3222
www.cepheid.com
---
Milli-Q Integral
Water purification system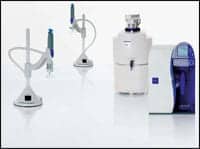 Millipore Corp, Billerica, Mass, introduces its new Milli-Q Integral water purification system, which uses tap water to supply constant-quality Type II (pure) and Type I (ultrapure) water from a single water-production unit. The compact system combines the company's Elix technology with the Milli-Q solution to produce the pressurized water, providing users direct control over water quality through the entire purification process and meets needs ranging from 60 to 300 L/day. Separate points-of-delivery (PODs), dedicated either to ultrapure water (Q-POD) or pure water (E-POD), ensure delivery at a flow rate adjustable from drop-by-drop to 2 L/minute. The flexible PODs can be adapted with a choice of final polishers to remove specific contaminants, including pyrogens, nucleases, bacteria, particulates, and organics. POD dispensers accommodate a range of laboratory glassware and provide automatic- or manual-dispensing options. Information about system operation and water quality (ionic and organic contaminant level) is displayed graphically on the bases and on the production unit, where it can be seen at a glance and printed out. The unit takes up minimal space and can be installed anywhere in the laboratory—on or under the bench, or high on a wall. The system's Q-POD and E-POD units also have a small footprint and can be placed on a bench or installed on a wall. Up to three POD units, placed at different locations in the laboratory, can be supported by each system.
Millipore Corp
(800) 548-7853
www.millipore.com
---
QMS Lamotrigine and QMS Topiramate
Anti-epileptic drug immunoassays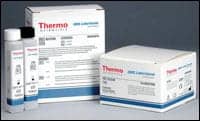 Thermo Fisher Scientific Inc, Waltham, Mass, introduces the newest additions to its QMS product line of immunoassays designed for the monitoring of levels of therapeutic drugs in human serum and plasma—QMS Lamotrigine and QMS Topiramate. The lamotrigine immunoassay is cleared for the quantitative determination of lamotrigine concentrations in human serum or plasma. Both products are intended for use on automated clinical chemistry analyzers such as those found in hospitals and reference laboratories, and are designed to aid physicians in optimizing therapy for patients receiving lamotrigine or topiramate. The new products and the company's existing assay for zonisamide enhance the monitoring of drugs commonly used for managing epilepsy and neuropathic pain.
Thermo Fisher Scientific Inc
(781) 622-1000
www.thermo.com/seradyn
---
PETG Side Load Triple Glove Dispenser
Holds three boxes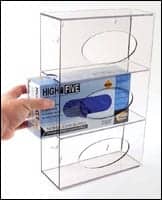 Medicus Health, Grand Rapids, Mich, is offering the new PETG Side Load Triple Glove Dispenser. The side-load feature keeps each glove box in its own compartment, which keeps glove sizes separated. Wall-mount boxes save countertop space and help increase infection-control compliance. Dispensers accommodate most glove-box sizes, and flexible keyed-mounting holes allow boxes to be mounted with the openings facing left, right, or up. The mounting system requires a Number 2 Phillips screwdriver, and all mounting hardware is included. The overall dimensions are 10.25 inches x 4 inches x 16 inches. It is recyclable to meet hospital green initiatives.
Medicus Health
(877) 514-1140
www.medicus-health.com
---
Whitney Products Pipet Keeper™
New, longer design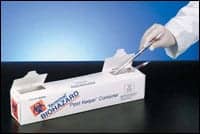 The Terminal® brand Pipet Keeper from Whitney Products Inc, Niles, Ill, allows the disposal of contaminated pipettes, swabs, and other items up to 15 inches long at the workstation. The unit is useful for right and left handers, with an interlocking top and enclosable flaps.
The keepers are disposable, made of paperboard, and have a plastic lining and webbed corners to help avoid soak-through. They are shipped flat for efficient storage and fold together for use.
Whitney Products
(800) 338-4237
www.whitneyproducts.com