LAP4500
Prints labels on demand
Computype Inc, Minneapolis, introduces the LAP4500, an enhanced version of its printer-applicator that makes it easy to label tubes and vials. The applicator has been improved to handle more types of labware through bulk inputs and new software enhancements that make it easier to interface and communicate with various laboratory automation devices. The printer allows laboratories with high-volume labware processing needs to eliminate the manual labeling of tubes and vials. Designed for use with glass or plastic tubes and vials, the LAP4500 can wrap a label around a vial/tube in approximately 3 seconds with a full or partial wrap. The unit that was initially released can accommodate approximately 25 vials, but with the enhanced in-feed and out-feed options, the LAP4500 is capable of handling hundreds of vials.
Computype Inc
(800) 328-0852
www.computype.com
---
UniCel DxI 600
Full-feature analyzer for midvolume labs
Beckman Coulter Inc, Fullerton, Calif, has launched the next analyzer in its series of in vitro diagnostic offerings, the UniCel DxI 600 Access Immunoassay System, an innovative immunochemistry instrument designed for midvolume laboratories. The system is designed for laboratories supporting 200- to 400-bed hospitals. It processes up to 200 tests per hour and releases the primary tube in less than 5 minutes. Its features include refrigerated storage for 50-reagent packs and onboard aliquotting. Built from the same proven technology used in the DxI 800, the DxI 600 can facilitate workstation consolidation and expand laboratory testing to include high-quality assays such as AccuTnI Troponin I. In addition, it uses the same reagent pack as other analyzers in the family, a feature important to integrated health care networks.
Beckman Coulter Inc
(800) 526-3821
www.beckmancoulter.com
---
CellReporter
Live cell-based assay system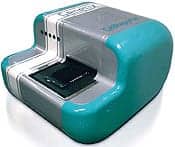 Genetix Ltd, New Milton, UK, has introduced a new cell-based assay platform, CellReporter. The new CellReporter is a powerful platform for fast, highly productive quantitative screening that produces qualified data for multiwell, livecell assays at high speed, using white light and multiplexed fluorescence. The company has combined the speed of a plate reader, the quality of a microscope, and the insight of high-content assays. The unit assesses multiple parameters in parallel, delivering immediate analysis and normalization of data. Easy-to-interpret features that validate assay readouts are built in, ensuring that a compound hit list is available minutes following assay completion. This compares to several days for traditional workflows. Only biologically relevant data feeds into subsequent data processing packages. CellReporter includes campaign-driven software, imaging instrumentation, and assay reagents for essential applications such as cell viability and morphology, cell proliferation, and apoptosis.
Genetix Ltd
(877) 436-3849
www.genetix.com
---
Clinitek Advantus
Urine chemistry analyzer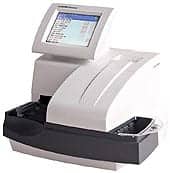 Siemens Medical Solutions Diagnostics, Tarrytown, NY, launched its Clinitek Advantus urine chemistry analyzer, which enables automated reading of the Multistix family of urinalysis testing strips in medium- to high-throughput settings. The product is a semiautomatic analyzer that can perform up to 500 tests per hour. It is network ready and delivers improvements such as the ability to consolidate microscopic test results. Technicians can enter results using the analyzer's touch screen or PC keyboard. It has enhanced quality-control capability, and automatically prompts technicians to perform QC testing. The unit includes QC lockout and a simple, one-touch operation allowing users to switch between different test configurations. Consolidated reports, including off-line urine microscopy test results, can be printed and/or transmitted to laboratory or health care information systems. The analyzer, which requires no warm-up or calibration, features an immediate start-up mode and maintains a throughput of 7 seconds per sample.
Siemens Medical Solutions Diagnostics
(800) 431-1970
www.diagnostics.siemens.com