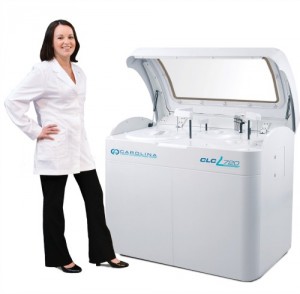 The hemoglobin A1c (HbA1c) glucose test from Carolina Liquid Chemistries Corp (CLC), Winston-Salem, NC, has received certification by the National Glycohemoglobin Standardization Program (NGSP). The test is performed on the company's CLC720 chemistry analyzer.
"Our test correlates to the NGSP-certified tests used in large-scale diabetes studies," says Patricia Shugart, CLC chief operating officer. "Physicians can now relate their HbA1c-direct results to these studies, providing more relevance."
According to CLC, the HbA1c-direct test is distinctive in that it requires no manual sample pretreatment, while its moderate complexity helps users avoid the incremental cost of a high-complexity lab. In a departure from other chemistry analyzers in its class, the CLC720 analyzer also automates the manual lysing step for improved efficiency
Diabetes currently affects more than 25.8 million Americans, or 8.3% of the country's total population, according to the National Institutes of Health. The NGSP reports that diabetes treatment accounts for about 20% of all healthcare spending, while WebMD.com recommends that diabetes patients receive an HbA1c test every 3 months.
Whereas simple glucose tests measure blood sugar levels at a specific point in time, HbA1c tests can improve glucose management by measuring average blood glucose levels over a period of 4 to 8 weeks, providing a more accurate metric of a patient's overall health.
For more information, visit Carolina Liquid Chemistries Corp.