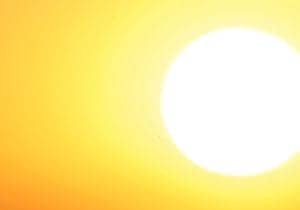 California is not known as "The Sunshine State"—that honor belongs to Florida—but it is known for its sunshine. Its capital, Sacramento, sees sun 78% of the time. Although its exact ranking depends on who is doing the compiling, Sacramento appears on most lists comparing state sunniness. On the National Climatic Data Center's list based on data through 2004, it holds spot 10.
Early this year, researchers from the University of California, Davis, published the results of a study that examined vitamin D deficiency in patients with metabolic syndrome living in the Sacramento area. Vitamin D2 is obtained through food; vitamin D3 is produced in the skin with exposure to sunlight. It is thought as little as 10 minutes of sun can prevent vitamin D deficiency. Yet, to the surprise of many, 30% of subjects in the UC Davis/Sacramento study were found to be vitamin D deficient.
"Considering our climate and healthy lifestyles here, these findings were unexpected … even many subjects in the control group had inadequate levels," Ishwarlal Jialal, the study's principal investigator and professor of pathology and laboratory medicine at UC Davis Health System, said in a statement released by the institution. The study, "Low Vitamin D Levels in North American Adults with the Metabolic Syndrome," can be found in the January 2011 issue of the journal Hormone and Metabolic Research.
Studies such as Jialal's have helped to drive the rapid growth in vitamin D research, testing, and treatment. "Increasing interest in vitamin D is fueling a surge in orders for tests as more health care professionals and consumers become aware of the rising prevalence of vitamin D deficiencies in otherwise healthy people and the potential health risks," says Michelle Johnson, senior manager of public affairs for Abbott Diagnostics, Santa Clara, Calif.
LOTS MORE TESTS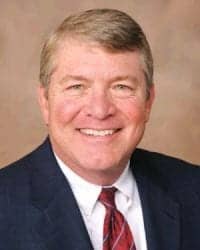 Carroll E. Streetman, Jr.
"Traditionally, vitamin D tests were commonly ordered for patients with risk for bone disease, such as postmenopausal women and the elderly. It is estimated that a majority of the testing performed in the United States is on women between 40 to 80 years of age. Testing volumes continue to rise across all age groups as publications demonstrate the health benefits of vitamin D sufficiency," says Carroll E. Streetman, Jr, president of DiaSorin Inc, Stillwater, Minn.
Research has shown that vitamin D aids in the absorption of calcium (impacting bone development and maintenance) as well as potentially offering protection from cancer, hypertension, osteoporosis, and certain autoimmune diseases. Vitamin D deficiency can impact bone development and maintenance, causing skeletal disorders such as rickets, osteomalacia, and osteoporosis, and has come to be seen as an indicator of general health status.
"Currently, it's estimated that over one billion people worldwide are vitamin D deficient, and about 77% of adults in the United States are either vitamin D insufficient or deficient, according to the National Health and Nutrition Examination Survey [NHANES] III conducted from 2001 to 2004," says Dave Hickey, CEO of the Chemistry, Immunoassay, Automation, and Diagnostics IT Business Unit of Siemens Healthcare Diagnostics, Deerfield, Ill.
The data has led to a surge in vitamin D testing. "Most labs have reported a 100% increase in testing requests over the past 2 years," says Douglas Borses, director of sales and marketing at Diazyme Laboratories, a division of General Atomics, Poway, Calif.
As a result of the increased volume, many laboratories have brought the test in-house. "Vitamin D was considered a send-out test, and now, many labs are able to financially justify bringing the test in-house," Streetman says.
LOTS OF METHODS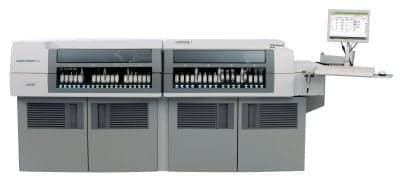 Abbott Diagnostics, Santa Clara, Calif, has filed a submission with the FDA to approve a fully automated vitamin D assay for use on the company's ARCHITECT system.
But what test to bring in-house? There are a number of different methodologies and different measurements from which to choose. "When selecting a vitamin D assay, several key issues to consider include the assay's ability to provide a total 25(OH) vitamin D value, its turnaround time, reproducibility, and the significant method variation among the different testing methods and assays," Hickey says.
Typically, vitamin D is measured through total serum concentration of 25-hydroxy-vitmain D [25(OH)D]. The test is often ordered when a vitamin D deficiency is suspected. Less frequently ordered is 1,25-dihydroxy-vitamin D, which, though it provides useful data, is often not a good indicator of vitamin D status. This metric may be evaluated when the patient is thought to have a problem with the parathyroid or a disease that causes high levels of vitamin D (such as, sarcoidosis), according to Lab Tests Online. Low levels can indicate kidney problems.
The challenge with 25(OH)D tests is that they are not all the same. Ordering physicians and laboratories must be careful to note exactly what is being measured. Although most of these tests generally capture both forms (D2 and D3) of vitamin D, the breadth should be confirmed. "Measuring 100% of both vitamin D2 and vitamin D3 is essential for accurate assessment of vitamin D status and to determine deficiency, sufficiency, and toxicity. However, not all assays are designed to detect the levels of the vitamin D2 component. In countries like the United States, where prescription supplements are primarily vitamin D2, it's critical that the vitamin D assay that is used is able to measure all of the vitamin D2 that is present," Hickey says.
And here, too, there are options. Total 25(OH)D is generally determined using one of three methods: immunoassays, manual or automated; liquid chromatography–mass spectrometry (LC/MS); or high-performance liquid chromatography (HPLC). "Mass spectrometry is the gold standard right now," Borses says.
Laboratories that develop in-house tests will often utilize LC-MS/MS equipment, Streetman notes. The methodology separates the vitamin D components from other substances in the blood to quantify how much is present. The processes tend to be labor intensive (and require skilled technicians), which can be challenging with high-volume orders, but may be more accurate in capturing the total amount of vitamin D present in the blood. "HPLC is used more so in the research laboratory," Borses says.
Immunoassay-based methods, which recognize vitamin D via antibodies, are more popular in the clinical lab where they tend to be automated, rapid, and consistent. Borses notes many on the market employ chemiluminescence platforms.
LOTS OF CHALLENGES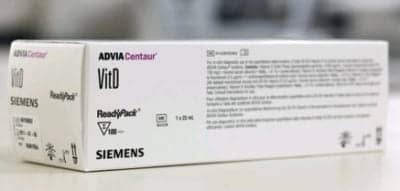 The Siemens Healthcare Diagnostics (Deerfield, Ill) ADVIA Centaur Vitamin D Total assay has been CE-marked for use on the ADVIA Centaur and ADVIA Centaur XP Immunoassay Systems since January 2011, and is currently under FDA review.
The problem with such variety is that it makes a universal reference range difficult to establish. "Because lab-developed tests (LDT) like LC-MS/MS or HPLC are not cleared or regulated by the FDA, there are variations seen between labs using these methods and the protocols to establish these methods," Streetman says. Each of these labs must develop its own reference ranges, but even those using commercial product must use institutional and manufacturer references as a quality control guide.
As a result, there is no current consensus on a specific level to indicate a vitamin D deficiency or a treatment cut point. There is also no universally accepted calibration material that could be used to standardize vitamin D testing across methodologies. "That is why it's so important for laboratories to participate in external quality schemes, such as the Vitamin D External Quality Assessment Scheme [DEQAS]," Hickey says.
"Vitamin D assay methods would be best served by a set of calibration material that utilizes an endogenous serum matrix and offers multiple dose levels of D2 and D3 that span the range of vitamin D levels," Streetman says.
However, as vitamin D testing continues to grow, it is likely this challenge will eventually be overcome. The industry has already made progress on appropriate ordering. "In the past, there was a lot of confusion," Streetman says. Now, most physicians understand that a total result looking at D2 and D3 is best. Many agree patients should be tested regularly. And the industry has aligned behind higher required levels.
"According to the Institute of Medicine of the National Academy of Sciences, most adults should get 600 international units [IUs] of vitamin D daily instead of the previously recommended 400 IUs. In addition, higher doses of 800 IUs are better for anyone age 70 and older," Johnson says.
As research continues to look at the role vitamin D plays in human health, many expect the volume of testing to continue to grow, particularly now that even one of the sunniest cities in the country has seen patients with vitamin D deficiency.
---
Renee Diiulio is a contributing writer for CLP.
Products and Pipeline
As research into vitamin D uncovers more benefits associated with its use and more problems with its deficiency, the volume of testing continues to rise. With increased volume comes increased justification for bringing the test in-house. Our sources shared information on their current and pipeline products for this area of diagnostics.
Products Today
The LIAISON 25 OH Vitamin D TOTAL Assay by DiaSorin Inc, Stillwater, Minn, is a fully automated assay with a time to first result of 35 minutes and a throughput greater than 90 tests per hour. The analyzer employs flash chemiluminescence detection, and in 2011, DiaSorin will introduce the LIAISON XL, which will offer a higher-throughput solution for vitamin D and other specialty assays at 170 tests per hour. The results indicate total D2 and D3, and as an FDA-cleared test, offer lot-to-lot consistency through quality control.
Diazyme Laboratories, a division of General Atomics, Poway, Calif, received clearance earlier this year from the FDA for its 25-Hydroxy Vitamin D test. The homogenous assay measures the true total 25-hydroxy-vitamin D—the sum of both D3 and D2, offering a wide dynamic range and eliminating washing steps and error caused by "matrix effects." The test can be run manually, used on automated microtiter plate readers, or adapted to automated chemistry analyzers.
Products Tomorrow?
Abbott Diagnostics, Santa Clara, Calif, has filed a submission with the FDA to approve a fully automated vitamin D assay for use on the company's ARCHITECT system. The test, which has been approved outside of the United States, is a two-step chemiluminescent immunoassay for the detection of the 25-hydroxy-vitamin D in blood. Its intended use includes the quantitative determination of 25-hydroxy vitamin D in human serum and plasma to aid in the assessment of vitamin D sufficiency.
The Siemens Healthcare Diagnostics (Deerfield, Ill) ADVIA Centaur Vitamin D Total assay has been CE-marked for use on the ADVIA Centaur and ADVIA Centaur XP Immunoassay Systems since January 2011 and is currently under FDA review. If approved, results are available in as few as 18 minutes.