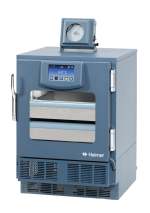 Helmer Scientific's i.Series, its premium series of blood bank refrigerators, has features designed to save time and increase safety.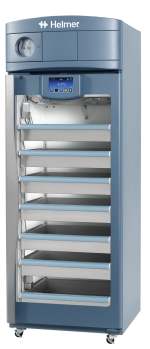 The concept of a blood bank is simple. The implementation is complex. The issues are many.
Today's blood banks are not only concerned with sourcing and safety—major challenges on their own—but also costs, staffing, and use of resources. Every blood bank makes decisions based on the needs of its population, but some principles are universal, and many protocols are regulated.
A new concept currently in fashion is total blood management. "Total blood management looks at getting blood to the right patient at the right time or getting the patient some other treatment if indeed it provides a better clinical outcome or is a more cost-effective approach than transfusing a unit of blood," says Linda Hahn, MPM, MT(ASCP)SBB, vice president, Clinical Services, Institute for Transfusion Medicine (ITxM), Pittsburgh.
The basis is similar to utilization review but much more intense. "The focus is changing to outcomes," Hahn says. So rather than decide to transfuse every patient at the same benchmark, the decision is based on the individual. "Is there data out there that suggests the patient outcome will be any better if I transfuse them at [a hemoglobin value of] 8 or 7.5 or 7 or 6 or 10?" Hahn asks.
This makes the evaluation process more complex, which is a good thing for patient care. But it is not the only step, nor even the hardest. After evaluation of whether or not to deliver blood, there is also the need to provide the blood. Safety is one of the biggest concerns, both regarding accurate typing and infection control.
Many tools used in the blood bank contribute to the effort to ensure a safe blood supply for patients in an environment where resources may be tight. Automation has therefore been a trend for some time. "Overall, automation technology has been adopted in the blood bank over the past decade or more to help address the challenge of staff shortages, as well as reducing errors," says Colleen Holtkamp, product manager, Helmer Scientific, Noblesville, Ind. "However, there is a need to continue to work on automated solutions."
Many companies are developing second- and third-generation devices designed for this use. "Upcoming trends in development include automated control of access and enhanced tracking of blood products," Holtkamp says. Molecular technologies are also showing inroads in new ways in these laboratories.
HAEMOVIGILANCE
Naturally, most of the focus is on risk and quality. "Overall, the blood bank community has undertaken a long-term strategy to reduce risk in the blood supply, including infectious disease testing, bacterial detection for platelets, and TRALI—transfusion-related acute lung injury—reduction strategies," Holtkamp says.
That effort is well regulated. The FDA has devised a multilayered safety strategy with five parameters: donor screening, blood testing, donor lists (people identified as ineligible), quarantine of donated blood (until tested and approved), and problems and deficiencies at blood centers. The requirements can sometimes seem overwhelming, but the necessity is well understood.
"Pre-1970, the chance of infection was almost 25% from a unit of blood," says Jerry Holmberg, director of scientific affairs, Novartis Vaccines and Diagnostics, Cambridge, Mass. Then came migration from paid blood donation to volunteer and the first tests for hepatitis. "Those two activities, but primarily moving to a volunteer donation blood supply, reduced the infection risk to 10%," Holmberg says.
AIDS [acquired immune deficiency syndrome] and HIV [human immunodeficiency virus] spurred further change. "We never want to go back to a situation like we had in the early '80s," Holmberg says, noting the disastrous effects on the hemophiliac population resulting from infected blood transfusions.
Industry, therefore, works with the FDA to develop products that can help blood centers achieve their safety goals. "We need to implement haemovigilance—become extremely vigilant in looking for any adverse event that may occur, during donation and when the blood product is transfused," Holmberg says.
HAEMOVIGILANCE HELPERS
For test developers, that means staying alert to emerging infectious diseases so that proactive action can be put into place. "We are always considering whether we need to add another test to try to screen for a potential transfusion-transmitted disease," Holmberg says.
Novartis is collaborating with its partner Gen-Probe Inc, San Diego, to develop a nucleic acid test assay to screen donated blood for dengue fever and plans to start investigational studies this year. It also has a pending assay in the regulatory pipeline to meet expected changes in FDA requirements for hepatitis B virus testing.
"The FDA has a draft guideline that will require NAT [nucleic acid testing] of hepatitis B virus," Holmberg says. "Up to this point, NAT has only been required for HIV and HCV [hepatitis C virus]."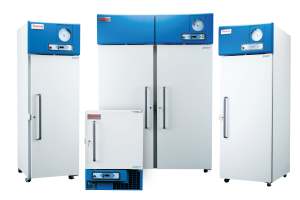 Thermo Scientific cold storage products offer complete, proven solutions ranging from +4°C refrigerators to -196°C cryogenic freezers, along with consumables and inventory storage options.
PROCESS IMPROVEMENT
Nucleic acid testing has become a cornerstone for blood centers, and automation has increased the ability to perform this testing more accurately and more efficiently to their benefit. Blood centers are suffering the same problematic shortages in staffing as other clinical laboratories. "We're quickly getting to a point where the Baby Boomers are retiring," Holmberg says.
With a lack of qualified trained professionals, blood centers must find innovative ways to handle their volume, without letting quality suffer and without spending too much money. "We're facing the same issues that everybody else has through the health care spectrum and that is there's less reimbursement," Hahn says. "And that trickles down."
So blood centers have employed strategies similar to their counterparts, such as automation, process improvement, and innovation. Automated analyzers for blood testing have been widely adopted, and many centers have implemented Lean and/or Six Sigma process improvement methodologies. "Helmer has implemented Lean manufacturing and Lean office at our own facility," Holtkamp says.
PROCESS IMPROVERS
THERMO SCIENTIFIC INNOVATIONS
In clinical environments, storage requirements call for lab refrigerators with a +1°C to +8°C temperature range or a lab freezer with a range of -20°C to -30°C. These temperature ranges are required for vaccine, whole blood, plasma, enzymes, and other temperature- sensitive materials. For longterm storage, cryogenic storage vessels are needed (-140°C to -150°C). Having a reliable cold storage product to protect critical lab samples is a matter of the utmost importance for clinicians, blood bank, and clinical professionals.
Cold storage products from Thermo Scientific, Milford, Mass, offer complete, proven solutions ranging from +4°C refrigerators to -196°C cryogenic freezers, along with consumables and inventory storage options that allow clinicians and scientists to concentrate on their work, rather than worrying about the storage of valuable samples.
With Thermo Scientific high-performance lab refrigerators and lab freezers, backup systems and microprocessor controls allow precise temperature settings and provide peace of mind that samples will be protected in the event of a power failure or surge. Highperformance cabinets are available for laboratory, blood bank, plasma, pharmacy, enzyme, and chromatography storage applications. Additional lab refrigerators and freezers are available for general-purpose, flammable material, and explosion-proof storage.
The company also offers a wide range of inventory options for cold storage samples. Nunc Cryobank tubes provide superior tracking of specimens using a 2D bar code and the ability to automate the capping and decapping of vials. The system allows tubes to click into the rack for risk-free handling.
—RD
Process improvement efforts typically consider the entire process to identify areas where change can have positive effect. Within analytics, automation and multiplexing have helped to boost productivity and efficiency while also improving quality and safety. However, analytics are not the only opportunity.
Blood centers may be able to identify areas not traditionally the most exciting or attention-getting within a lab, but that can have a significant impact on quality and efficiency measures. Consider storage.
Improperly stored blood results in risk and/or waste. In addition, blood centers must investigate and correct any problems with their manufacturing process and report product deviations in distributed products to the FDA (as required by the fifth safety parameter).
Helmer offers a number of products designed to ensure the safety of blood products, including refrigerators, freezers, platelet storage systems, plasma thawing systems, cell washers, and centrifuges. Its premium series of blood bank refrigerators has features designed to save time and increase safety. "Our blood bank refrigerators offer superior temperature uniformity for safe blood storage," Holtkamp says.
On the new i.Series refrigerators and freezers, the i.C3 user interface provides constant temperature monitoring and control as well as temperature data and information logs. "[The system] helps blood bank personnel work efficiently, with automatic alarm testing, an interactive on-screen temperature graph, event logging and acknowledgement, and download capability," Holtkamp says, adding that event acknowledgement alone can save a lot of time.
Options can include access control (ideal for remote locations) and custom storage. Holtkamp notes that Helmer's blood bank refrigerators can offer up to 17% more storage space within the same footprint as alternative models. The refrigerators also offer new energy-efficient LED lighting and ergonomic designs (the i.C3 touchscreen is at eye level).
NEW BLOOD
Being able to track blood as it moves through the system is another key to safety and efficiency. For this, the industry relies on the ISBT 128, a global standard for the identification, labeling, and information processing of human blood, cell, tissue, and organ products. Designed over 2 decades, it is used today across international borders and disparate health care systems.
"Standardization to ISBT 128 bar codes helps to reduce errors and improve efficiency and consistency," Holtkamp says. The established system can help to advance efforts to further automate the tracking of blood—and the entire life cycle of a blood donation—for "total blood management."
[  web
box

 ]

DIGITAL EDITION PREVIEW
Our May digital edition includes expanded multimedia features and product information, to keep you up to date on the latest developments in blood banking.

DIGITAL EDITION
To view the digital edition of CLP magazine go to our homepage.
The most important aspect of a blood center's work is delivery of a blood product to a patient who needs it. Total control management that the right treatment be provided, and if that treatment is to be a blood product, then it should be to the right patient at the right time.
A step toward this success is phenotyping. "We're still typing red cells the way we've always typed them—agglutination," Hahn says. "There are some newer automated methods, but they are still serology-based." Molecular technologies have an opportunity to improve this analysis.
"It is still an adjunct technology that would be impractical in most blood banks, but I think the role that that will take in a broader sense is yet to be defined," Hahn says. The potential to help provide blood products to patients who are difficult to phenotype is one inroad for these new techniques.
"Our technology is pretty simple, be it test tube or automated, so it's not something that's ready to jump onto the laboratory bench," Hahn says. However, if early use proves successful to total blood management efforts, adoption could eventually lead to routine use. Just like many of the challenges facing blood banks today. The concept is simple, the implementation complex, and the issues many.
---
Renee Diiulio is a contributing writer for CLP.