Next-Generation System Boasts Small Footprint
Supports high-volume laboratories
Alinity i is Abbott's next-generation immunoassay system, delivering compact and flexible design to maximize efficiency. Tailored to the needs of high-performing labs, Alinity i provides a scalable solution from one to four integrated modules performing up to 800 immunoassays per hour. The Alinity i integrates with the Alinity c clinical chemistry system, is available connected to automation systems supporting high volume laboratories, and enables greater operational productivity. Alinity is a total solution, delivering high throughput in a small footprint, a comprehensive test menu, and innovative features to optimize workflow and provide a common user experience. The Alinity ci series offers personalized configurations and is now available globally.
Abbott
(224) 667-6100; www.abbott.com
Automated ELISA Analyzer
Fully automated open system
The DS2 automated ELISA analyzer is an open system that delivers fully automated sample processing, incubation, reagent addition, washing, and detection for enzyme-linked immunosorbent assays (ELISAs). The instrument features two compact microplate incubators, and offers high processing capacity in a small space. Laboratories can use the system to perform any assay from any vendor, with reliability and ease of use, enabling them to bring in-house tests that have previously been sent to reference labs. The DS2 saves space and reliably schedules laboratory workloads.
Dynex
(703) 631-7800; www.dynextechnologies.com
Mid-Sized Immunoassay Instrument
Automated instrument handles continuous loading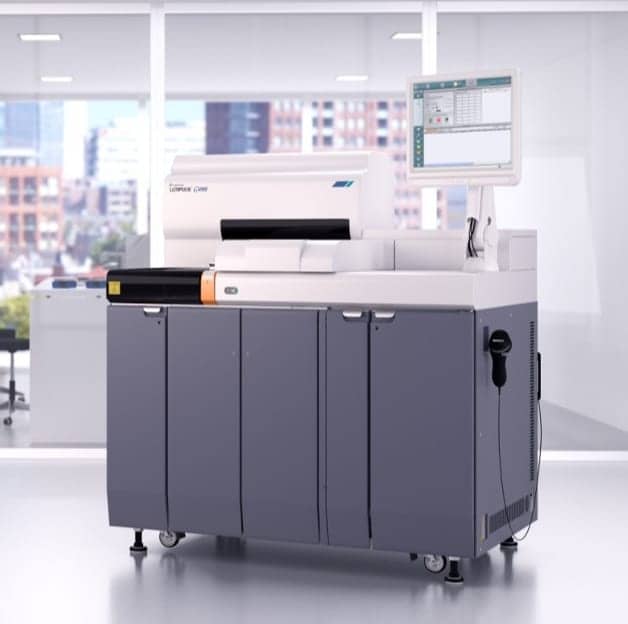 The Lumipulse G1200 is a robust, mid-sized, fully automated immunoassay instrument based on chemiluminescent enzyme immunoassay technology. The system is capable of handling continuous loading and unloading of samples, reagents, and consumables without operational interruption. It utilizes individual test cartridges to reduce reagent waste and eliminate cross contamination, and offers a throughput of 120 tests per hour. The system's menu comprises assays in a variety of areas including bone metabolism, diabetes, fertility, infectious disease, metabolic disease, neurodegenerative disease, oncology, and thyroid disease.
Fujirebio
(844) 544-3787; www.fujirebio-us.com
Allergic Disease Assay
New technology for routine allergy testing
The Noveos immunoassay system's IgE-specific assay is a quantitative test used as an aid in the diagnosis of allergic disease. Commercially available for sale outside the United States, the system employs chemiluminescent microparticles and liquid, ready-to-use reagents, and offers the first new technology to be introduced for routine allergy testing in more than 30 years. The Noveos immunoassay system was specifically designed to address common issues laboratorians face, providing for a significant reduction in sample size per test, reduced blood-based interferences, less variability within allergen lots, increased accuracy, and improved walkaway time for laboratory technicians.
Hycor Biomedical
(800) 382-2527; www.hycorbiomedical.com
Prolactin ELISA Kit
Uses color-coded reagents to reduce error
The Prolactin enzyme-linked immunosorbent assay (ELISA) kit from Enzo Life Sciences uses liquid color-coded reagents that reduce the possibility for error, and provides fully quantitative results in 3 hours. The kit has negligible cross-reactivity with similar molecules, ensuring an accurate measurement of prolactin concentration. The assay represents an addition to Enzo's portfolio of hormone analysis products, including immunoassays to detect 17ß-estradiol (estrogen), follicle-stimulating hormone, and luteinizing hormone.
Enzo Life Sciences
(800) 942-0430; www.enzolifesciences.com
Unit-Dose Test Cup
Free from biotin interference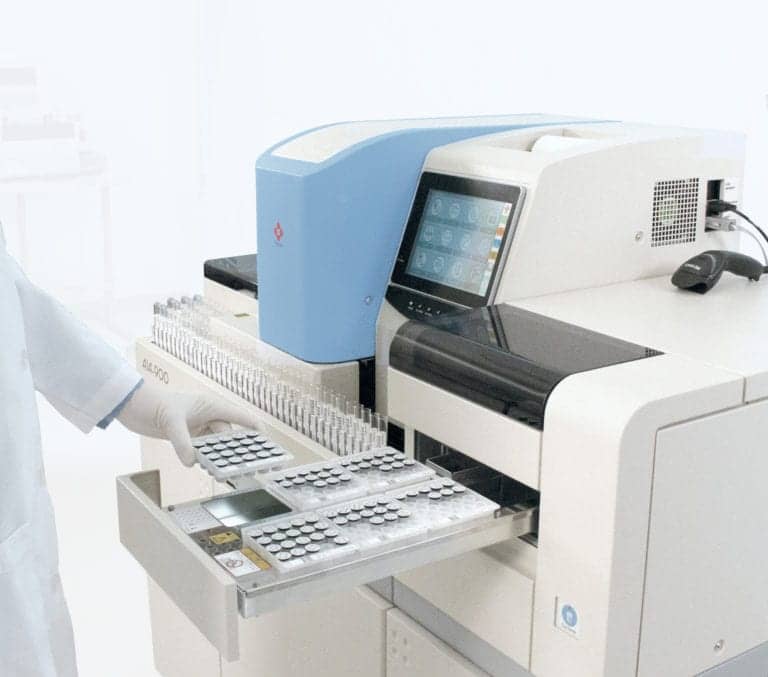 Tosoh Bioscience's proprietary dry-reagent, unit-dose test cup technology is free from biotin interference, offers calibration stability of up to 90 days, and achieves consistency and accuracy with reduced waste. The test cup is interchangeable across Tosoh's portfolio of automated immunoassay analyzers. Tosoh analyzers are suited for a variety of different throughput requirements, from small physician office labs to large reference labs, and are easy to use, robust, precise, and offer a simplied workflow with minimal downtime.
Tosoh Bioscience
(650) 636-8620; www.tosohbioscience.us
Mid- and High-Volume Immunoassay Analyzers
High productivity in a small footprint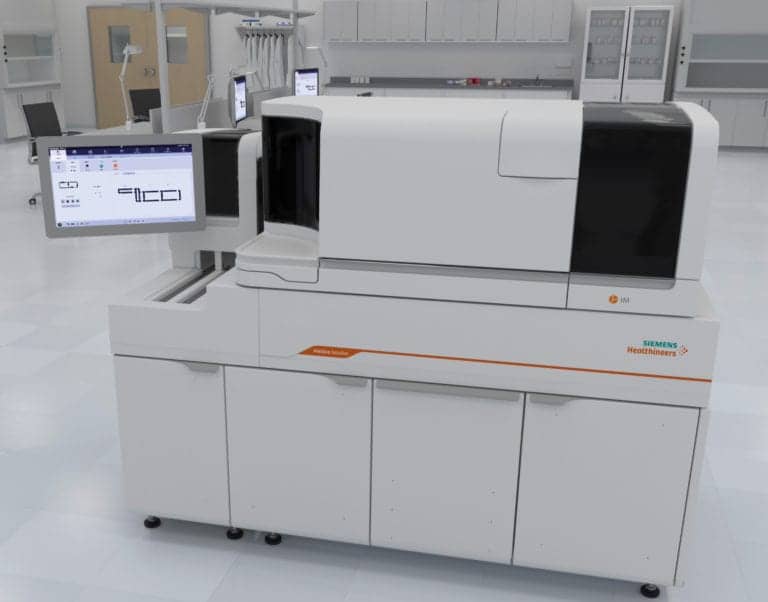 The Atellica IM 1300 (mid-volume) analyzer and Atellica IM 1600 (high-volume) analyzer from Siemens Healthineers have the same footprint and utilize acridinium ester technology. Engineered to be reliable for high productivity within a small footprint, the immunoassay analyzers feature built-in temperature control, automatic quality control when connected to the Atellica sample handler, workflow enhancements to reduce operator intervention, and a broad and expanding menu across disease states. The analyzers use the same reagents and consumables in every configuration, ensuring streamlined inventory management and consistent patient results. To accommodate the needs of labs with high testing volumes, up to three Atellica IM analyzers can be connected via the Atellica automation solution.
Siemens Healthineers
(888) 826-9702; www.usa.healthcare.siemens.com
Infectious Disease Testing Line
Monoclonal antibodies and recombinant antigens
The immunologicals group of the Binding Site offers a line of monoclonal antibodies and recombinant antigens focused on infectious and contagious disease states, including Chagas disease, cytomegalovirus, hepatitis, HIV, rubella, syphilis, and toxoplasmosis. Both the antigens and the antibodies have been designed for use as integral components of solid-phase immunoassay-based test procedures, including enzyme immunoassays, enzyme-linked immunosorbent assays (ELISAs), and lateral-flow methodologies. All products feature long shelf-life claims and are supplied preservative-free. Both the antibodies and the antigens come packaged in ergonomically designed vials, with larger, bulk packaging configurations also available.
The Binding Site
(800) 633-4484; www.bindingsite.com
Calprotectin Extraction Device
First to receive FDA clearance
Inova Diagnostics has received FDA 510(k) clearance for a fecal extraction device to be used in conjunction with the company's Quanta Flash Calprotectin assay, a chemiluminescent immunoassay for the detection of fecal calprotectin in human stool samples. High concentrations of fecal calprotectin, in conjunction with clinical findings and other laboratory tests, may assist in the diagnosis and management of inflammatory bowel disease (IBD), including Crohn's disease and ulcerative colitis, and helps differentiate IBD from irritable bowel syndrome (IBS). The first such device to receive FDA clearance, Inova's fecal extraction device correlates well to the manual weighing method, allows extracted sample to be stored at room temperature for up to 72 hours, and can be placed directly on Inova's Bio-Flash system for convenient sample processing.
Inova Diagnostics
(800) 545-9495; www.inovadx.com
Menopausal Status Assay
Measures blood levels of AMH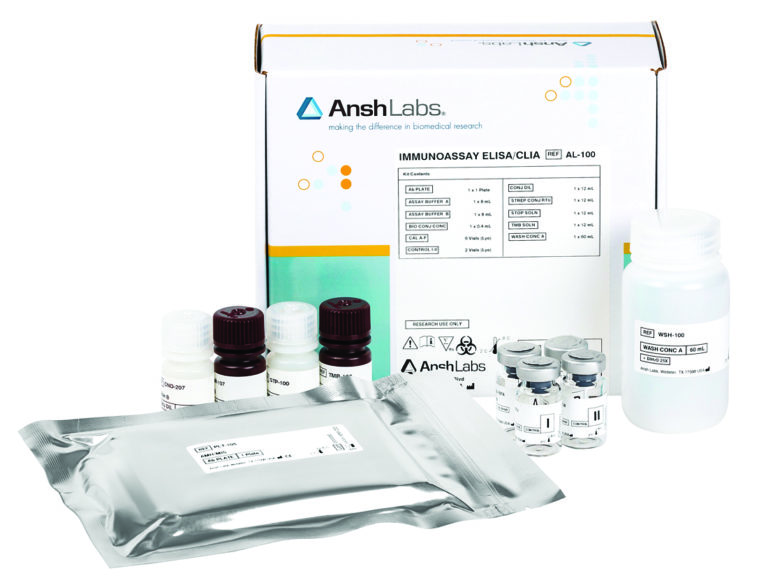 FDA has recently granted de novo 510(k) market clearance to Ansh Labs for the company's anti-Müllerian hormone (AMH) assay, PicoAMH ELISA, as an aid in the determination of menopausal status for women aged 42 to 62 years. The PicoAMH ELISA measures the amount of AMH in the blood. The assay is the first FDA-cleared AMH test with the sensitivity to quantify declining AMH concentrations among women who are entering their menopausal transition. The test will be sold in a kit format under the trademark MenoCheck.
Ansh Labs
(281) 404-0260; www.anshlabs.com