Beckman Coulter Inc, Brea, Calif, has received FDA 510(k) clearance for its new Access AccuTnI+3 troponin I assay for use on its Access 2 immunoassay system (pictured).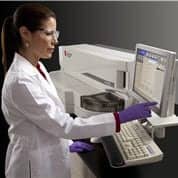 "Clinicians have depended on Beckman Coulter's troponin I test for over 12 years and the new AccuTnI+3 assay has the proven performance to continue providing dependability to laboratories supporting emergency care," says Arnd Kaldowski, president, Beckman Coulter Diagnostics. "Our new troponin I assay offers emergency physicians confidence in results that enable them to provide excellent care for patients at risk of MI [myocardial infarction]."
In October 2010, the FDA issued guidance to all manufacturers of troponin assays in an effort to modernize the performance evaluation and regulatory review of these critical tests. As such, the FDA requested that manufacturers conduct a clinical study, to "modernize the labeling and claims in order to ensure that laboratories and clinicians are informed of the true performance of troponin assays to help in result interpretation and laboratory verification of performance parameters."
In accordance with the FDA's new requirements, Beckman Coulter conducted a large multicenter prospective clinical trial on the AccuTnI+3 troponin I assay trial that enrolledmore than 1,900 subjects, and confirmed that the assay provides the clinical performance needed for optimal patient management. The data from this trial shows that the assay delivers the precision, clinical sensitivity, and clinical specificity necessary to assist physicians with the diagnosis of MI.
[Source: Beckman Coulter]