This is an extended version of content that appears in the Emerging Technologies feature in the April issue of CLP.
From its headquarters in Marcy l'Etoile, France, diagnostics giant bioMérieux had more than one reason to celebrate last year. Not only did the company mark its 50th anniversary, it also gained first-to-clinical-market advantage with the launch of its new diagnostic platform, dubbed Vitek MS.
Vitek MS is a mass spectrometry system intended for the identification of pathogenic organisms in clinical laboratory applications. FDA granted 510(k) de novo clearance for the system in August 2013, making it the first clinical mass spectrometry system to be cleared for the US market.
Speed, accuracy, and breadth are all hallmarks of the new system. The Vitek MS can perform up to 192 different tests in a single automated series of testing, with each test taking about one minute. The system performs well when compared with nucleic acid sequencing, achieving comparative accuracy of 93.6%.
And the Vitek MS system identifies a wide range of pathogenic bacteria, including those from the Staphylococcaceae, Streptococcaceae, Enterobacteriaceae, Pseudomonadaceae, and Bacteroidaceae families, which can lead to skin infections, pneumonia, meningitis, and bloodstream infections. The system can also identify disease-causing yeasts, such as those from the Candida, Cryptococcus, and Malassezia groups.
The Vitek MS is a matrix-assisted laser desorption ionization time-of-flight mass spectrometer (MALDI-TOF MS). The device analyzes material from clinical samples to identify the organisms present in the samples. Inside the Vitek MS, samples are submitted to multiple bursts of laser light. Absorbing the laser light, the matrix becomes heated and vaporizes, along with the sample, in the process gaining an electrical charge (ionization).
Electric fields then guide the ions into a vacuum tube that separates them according to their weight, with the smaller molecules rising up the column faster than the larger molecules. This "time of flight" can be visualized as a series of chemical-signature peaks that correspond to the varied molecules contained in the organism of the sample. The peaks create spectra unique to that microorganism. By automatically comparing the spectra to a library of organisms owned by bioMérieux, the Vitek MS is able to identify the microorganisms of the sample very precisely.
The Vitek MS library represents the vast majority of bacterial and fungal infections that afflict humans. As a world leader in clinical microbiology, bioMérieux holds the largest private collection of microorganism strains in the world.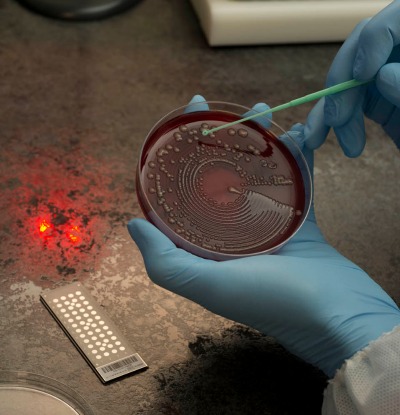 As part of the premarket notification (510(k)) submitted to gain FDA market clearance, bioMérieux provided data from a multi-center study consisting of 7,068 clinical isolates. Vitek MS accuracy was compared to 16S ribosomal RNA gene sequencing—the gold standard—for a wide range of microbial pathogens, including anaerobic bacteria, Enterobacteriaceae, gram-positive aerobes, fastidious gram-negative bacteria, gram-negative non-Enterobacteriaceae, and yeast. The overall accuracy of Vitek MS compared to nucleic acid sequencing for these organisms was 93.6%, with 87.5% of organisms identified to the species level. Only 0.8% of results were incorrect.
"The ability for laboratories to use one device to identify almost 200 different microorganisms is a significant advance in the timely identification of pathogenic microorganisms," said Alberto Gutierrez, PhD, director of the Office of In Vitro Diagnostics and Radiological Health at FDA's Center for Devices and Radiological Health. "Rapid identification of harmful microorganisms can improve the care of critically ill patients."
Before and since the Vitek MS received clearance for use in clinical applications, scientists have been challenging the system's performance. Researchers at the Washington University School of Medicine, St Louis, put Vitek MS to a rigorous test by using it to analyze a 10-year collection of clinical samples that had initially been difficult to identify with traditional methods.
"The question was, if we tested these organisms with MALDI-TOF MS, how would we do?" said Carey-Ann Burnham, PhD, assistant professor of pathology and immunology at Washington University School of Medicine and the medical director of microbiology at Barnes Jewish Hospital, also in St Louis. "So, we pulled these samples from the freezer and the answer was very exciting. Nearly all of the isolates were able to be identified with high accuracy in a matter of moments using a single method: MALDI-TOF MS.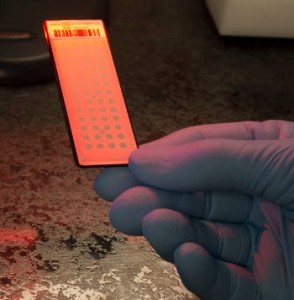 Hackensack University Medical Center is exploring applications of the Vitek MS technology to develop better treatment methods for patients. "We're conducting a study to see what benefits accrue from diagnosing and treating patients with infectious disease faster and more accurately," said Robert C. Garrett, president and chief executive officer of Hackensack University Health Network.
"Mistreatment and antibiotic overuse are major problems in our healthcare system. They cause prolonged suffering and are very costly," Garrett added. "We think Vitek MS, by diagnosing patients faster and allowing for more-rapid treatment, should help our bottom line by reducing our expenditures on medication and reducing the length of stay of patients with serious infections."
"We are very proud to be the first to introduce mass spectrometry to US clinical laboratories," said Alexandre Mérieux, bioMérieux directeur général délégué and vice president of the company's microbiology unit. "For half a century, bioMérieux has introduced pioneering diagnostic innovations to the clinical laboratory. Vitek MS is part of our commitment to transform microbiology diagnostics, with innovative solutions providing actionable information for improved medical decisions."