PerkinElmer Inc, Waltham, Mass, introduces the AxION iQT gas chromatography tandem mass spectrometer (GC/MS/MS), which provides greater quantitative capabilities to that of a triple quadrupole, while quickly identifying compounds such as a quadrupole time-of-flight (Q-TOF) at a rate of up to 500 compounds per second.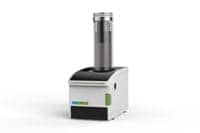 The instrument, which is approved for use by clinical labs in the United States, provides laboratories with easier-to-use technology, faster results, and more specific, selective data needed to make more accurate decisions faster.
The platform performs superior quantitation and exact mass identification for complex sample analysis.
The Axion iQT GC/MS/MS solution is intuitive, enabling technicians who are not mass spectrometry-trained to run their analyses easily and with confidence. It delivers automated method development tools to users, includes advanced application-centric software, and provides easy maintenance due to its smart modular system.
[Source: PerkinElmer]