The FDA has granted 510(k) clearances to the Quidel Molecular Influenza A+B assay and the Quidel Molecular RSV + hMPV assay from Quidel Corp, San Diego, both for use on the QuantStudio™ Dx Real-Time PCR Instrument by Life Technologies, Carlsbad, Calif.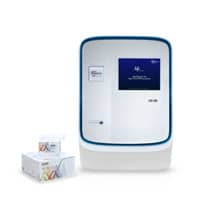 The QuantStudio Dx offers advanced capabilities in flexible sample batching needed by higher-volume hospital and reference labs.
The two clearances add to the infectious disease menu available on this instrument with assays for the diagnosis of some of the more common respiratory tract infections that often share similar influenza-like symptoms (ILI) and that can be difficult to distinguish, based on clinical signs and symptoms alone.
The A+B assay reports the presence or absence of influenza A and/or B virus; it does not differentiate influenza A subtypes. However, it does demonstrate the analytical detection of subtype H7N9. The H7N9 subtype has caused more than 100 infections to date in China, with a mortality rate of approximately 30%.1 Transmission of H7N9 infections to date have been as a result of human exposure to infected poultry, but a possible case of human-to-human transmission was recently reported in the British Medical Journal.2
The assay was also cleared to include the analytical detection of H3N2v, a variant influenza virus that has caused infection in patients exposed to infected swine at agricultural fairs in the United States.
The RSV + hMPV assay detects the presence of respiratory syncytial virus (RSV) and/or human metapneumovirus (hMPV). According to the Centers for Disease Control and Prevention (CDC), between 25% to 40% of infants and children exposed to RSV for the first time show signs or symptoms of bronchiolitis or pneumonia, and up to 2% may require hospitalization.3 hMPV accounts for approximately 7.1% of respiratory tract infections.4 Like RSV, hMPV generally causes mild respiratory tract infection, but can be severe, especially among young children, the immunocompromised, and the elderly.
The assays are part of Quidel's expanding line of molecular diagnostics products.
The assays and QuantStudio Dx will be sold and distributed by both Quidel and Life Technologies in the United States and in Europe. The assays were previously 510(k)-cleared by the FDA for use with Life Technologies' Applied Biosystems 7500 Fast Dx Real-Time PCR Instrument and Cepheid's SmartCycler II.
References:
1. http://www.who.int/csr/don/2013_08_11/en/index.html
2. Probable person to person transmission of novel avian influenza A (H7N9) virus in Eastern China, 2013: epidemiological investigation.BMJ 2013; 347.
3. http://www.cdc.gov/rsv/about/infection.html
4. Sloots T.P. et al. 2006 EID. 12:1236-66.
[Source: Life Technologies]