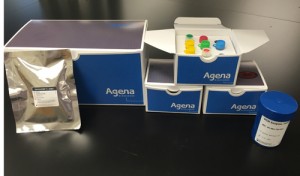 Agena Bioscience, San Diego, Calif, has released the LungFusion panel, which identifies oncogenic anaplastic lymphoma kinase (ALK), c-ros oncogene 1 (ROS1), and ret proto-oncogene (RET) gene fusions rapidly and sensitively in non-small cell lung cancer tumors.
Currently available for research use only, the single-well panel uses as little as 10 ng of cDNA template to identify expressed translocations of known clinical relevance in formalin-fixed, paraffin-embedded and fresh frozen tissue samples. The MassArray-based assay serves as a simpler alternative to traditional screening methods, such as immunohistochemistry (IHC) staining and fluorescence in situ hybridization (FISH), which require high-quality samples and time-consuming protocols.
The MassArray assay is performed via matrix-assisted laser desorption/ionization time-of-flight mass spectrometry (MALDI-TOF MS) for enhanced specificity and sensitivity during quantitative and qualitative nucleic acid analysis.
In a study published in the February issue of the Journal of Thoracic Oncology, researchers at Wayne State University School of Medicine used a MassArray-based panel that featured an assay design similar to the LungFusion panel.1 The study authors found that their custom panel was capable of "detecting an event in test specimens containing 0.5% positive tumors" when evaluating ROS1 and RET translocations. The test also reportedly had "exceptionally low sample input, high cost efficiency, flexibility, and rapid turnover," according to the researchers.
"Rare events in NSCLC tumor samples can be difficult or laborious to determine through optical genetic analysis techniques," says Marisa Pearce, senior director of marketing at Agena Bioscience. "The LungFusion panel is an inexpensive, single-well assay amenable to formalin-fixed tissue and fine needle aspirates, which may be of varying quality, allowing NSCLC studies to expand in sample size and confidence level within existing research budgets."
Through built-in controls, the LungFusion panel can simultaneously assess RNA quality, report DNA contamination, and determine the relative amount of lung tissue present in the sample. The company's software automatically reports translocation status and a confidence score for each sample.
Detecting genetic variation directly by end-point polymerase chain reaction and label-free mass spectrometry, the MassArray system can validate variants identified from genome sequencing in research and clinical settings.
For more information, visit Agena Bioscience.
REFERENCE
Wijesinghe P, Bepler G, Bollig-Fischer A. A mass spectrometry assay to simultaneously analyze ROS1 and RET fusion gene expression in non-small-cell lung cancer. J Thorac Oncol. 2015;10(2):381–386; doi: 10.1097/JTO.0000000000000337.