Sonora Quest Laboratories, Phoenix, now offers the EarlyCDT®-Lung, a simple blood test from Oncimmune® USA LLC that aids physicians in the early detection of lung cancer.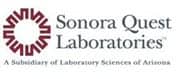 Sonora Quest offers it as a "pass-through" test, with reporting and billing being handled directly by Oncimmune, UK, with US headquarters and a CLIA-certified lab in De Soto, Kan.
The test uses a panel of tumor antigens to diagnose autoantibodies (immuno-biomarkers) produced by the patient's immune system when lung cancer is present. Elevation of any one of the autoantibodies in the test panel above a predetermined cutoff value suggests that a tumor might be present.
EarlyCDT-Lung has been shown to detect early and late-stage cancer in research studies as well as in clinical use.
Previous studies have shown that autoantibodies can be detected up to 5 years earlier than a tumor can be seen in routine diagnostic imaging procedures. Tests that detect autoantibodies to a single tumor protein have been available for a number of years but have had low detection rates (sensitivity), the company says.
The test has a high specificity (93%), seven times fewer false positives and five times better positive predictive value (PPV) than CT, and it offers >91% accuracy, when considering a population with 2% prevalence of lung cancer (20 lung cancers per thousand).
A prospective audit of clinical data from the first 1,600 patients tested with EarlyCDT-Lung validates its utility to detect early-stage lung cancer and its overall performance.
Additionally, the Scottish government is conducting a 10,000-patient randomized clinical trial to validate the economic benefit of the test in screening high-risk patients.
[Source: Sonora Quest Laboratories]